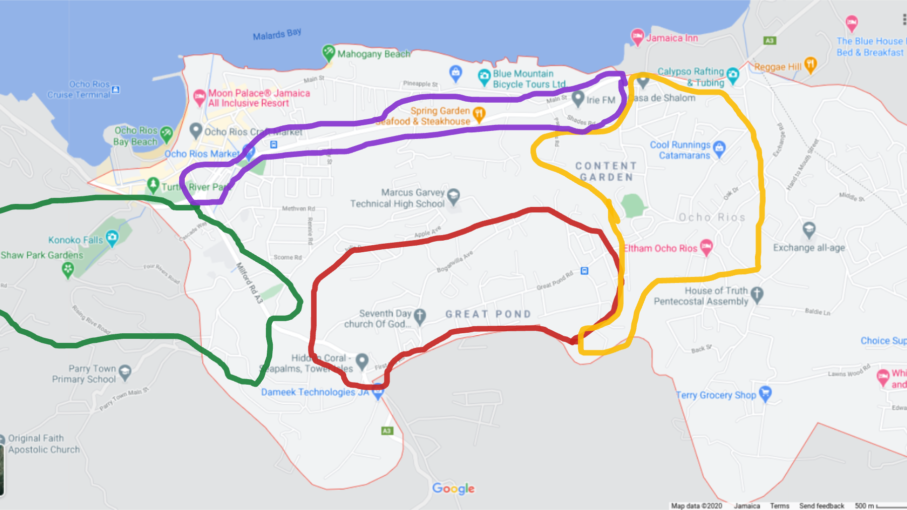 Green Area:
This includes Golden Grove. Boasting some of its own attractions, the area is situated close to the city's port and staples such as the Ocho Rios Craft Market and Market. The area is a mixture of beautiful natural sceneries, commercial and residential properties. It has several famous sights such as Shaw Park Gardens and is minutes away from Fern Gully. With affordable and reliable taxis to get around, visitors can easily return to the port for entertainment or explore their surroundings. The area hosts some of the most upscale and expensive accommodations. There is always something fun and entertaining to do.
Red Area:
This includes Great Pond. Located right in the heart of the city center, it is easy to explore via walking and taxis. It is also ideally situated next to other communities that have a variety of attractions. The area offers a range of accommodation including villas and Airbnbs that have different prices. Extremely secure, it is ideal for tourists who are looking to truly enjoy the city's best attractions such as Dunn's River Falls, Turtle River Beach, and James Bond Beach. This area isn't short of activities and entertainment.
Yellow Area:
This area includes Content Garden. This area of the city is also easily accessed and can even be reached via walking from the port depending on how far you're going. Taxis are readily available. It has some of the most beautiful and secure accommodations including comfortable and exquisite villas such as Casa de Shalom. Accommodation varies between affordable, just right, and expensive. It is a bit quieter when compared to the other areas but still has entertainment that will keep visitors occupied and pleased.
Purple Area:
This includes Main Street. This area is mainly a commercial one. Walking or a taking taxi will get tourists there easily. The area is highly entertaining with the Irie FM Radio station that often has several events and is the go to area for both visitors and locals alike because of its shopping plazas and restaurants. It has a variety of accommodations from the high-end to the affordable. Considered the hip strip of Ocho Rios, it is always good to make the area a must visit spot.