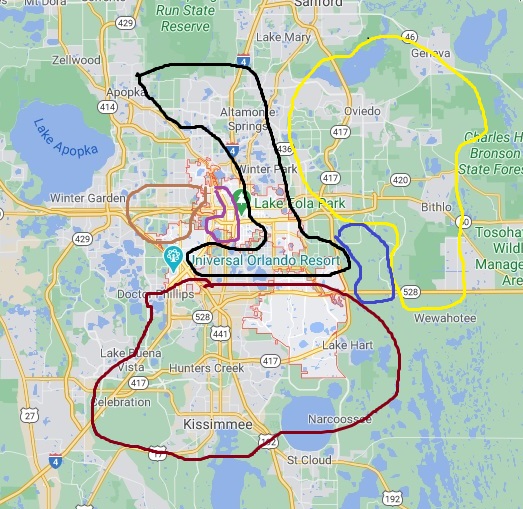 This map covers the regions of Orlando City, Florida , USA. It aims to give you a basic idea of the nature and characteristics of each region.
The yellow area
This is the eastern part of Orlando that feels like a community of its own, with sturdy shopping & dining choices, attractions, golf and entertainment, and expansive neighborhoods filled with lakes, near to the busy (and ever-expanding) Central Florida University. Here there is so much to do, you may never need to leave!
East Orlando seems to be ideally located just a short drive to Florida beaches, and a further drive to downtown Orlando. But once you're here you'll soon see you're rarely going to have to go. This family-friendly and culturally rich region of Orlando, with plenty to do and see here, is like a community all of its own. Among its larger sketches, Waterford Lakes Town Center and neighboring parcels along Alafaya Trail have become the area's shopping and dining hub – featuring a spectacular selection of shops (big and small) and cuisine (ethnic, American, casual, or trendy). If you're a golfer, East Orlando is home to many of the most treasured courses & clubs in Central Florida – many of which are interwoven by picturesque gated communities, each with its own special amenities and charm. With many affordable homes for sale or rent here, living close to the school is simple and convenient. The proximity has allowed many investors to turn homes into fantastic income opportunities with a rental market powered by an ever-growing population of students in the region.
Outdoor lovers are completely at home here. The area is home to great parks – including the 84 acres of beaches, fields, athletic courts, and fishing or canoeing along the Little Econ River in Blanchard Park. Or Downey Park, which features a fantastic children's dog park and playground with water-splash.
The black area
Identified as Orlando North (Seminole County) offers visitors natural attractions, diverse dining, an evolving micro-brew scene, plus a year-round festival and event calendar. With over 2,000 rivers, you can discover a wide variety of fun outdoor sports ranging from paddling to alligator air-boating or zooming along an aerial zip line. It also houses a variety of amateur and collegial tournaments play sports and training facilities. And it's easy to get here via Orlando Sanford International Airport, Orlando International Airport, Amtrak Auto Train, or I-95 and I-4 by car; and you'll save 30 percent on hotels in Orlando. All this and it's also just minutes away from world-class theme parks and beaches in Florida.
The purple area
It is known as Orlando downtown district. It's more than just a place to do business. Young professionals are in the center of town. Both locals and visitors flock downtown at night because of its many pubs, clubs, and restaurants. Orange Avenue between the streets of Washington and Church and one or two blocks at each intersection between is where the majority of the downtown nightlife is concentrated. It is safe to be after dark in these places, just look out for your surroundings. Unless you take part in an event at the well-lit Florida Citrus Bowl, it is not advisable to travel farther west of downtown than the Amway Arena.
The brown area
Metro West is an 18,139-inhabited community in Orlando, Florida. Metro West is located in Orange County, and one of Florida's best places to live. Living in Metro West provides an urban feel to residents, and most people rent their homes. Many young professionals live in Metro West and residents appear to be liberal. It has over 9,600 residential homes and offers several housing options including single-family homes, studios, townhouses, and condominium complexes spread across the gently rolling landscape.
In District 1, only a part of the MetroWest population lies with the other half in District 6. The 1,805-acre mixed-use community features a prominent main entrance located off Kirkman Road on MetroWest Boulevard and is a vibrant ethnic neighborhood of families, workers, students, and businesses. The community includes the popular MetroWest Golf Club, an award-winning 18-hole golf course designed by Robert Trent Jones, Sr.
The neighborhood was developed in the 1980s as a corporate, industrial, and residential community by Debra, Inc., a developer based in Orlando.
The blue area
Park Central brings together three different neighborhoods to create one unforgettable living experience — Belmont, Charles Towne, and Manor Row. You'll discover an environment of community lakes next to charming, gazebo-lined boardwalks inside this gated, garden-style community. Adding to the stunning surroundings, Park Central's neighborhoods come together to give you more layout choices and access to more facilities than you'll find anywhere in Orlando, FL. With distinct models available in each Park Central neighborhood, your next one, two or three-bedroom apartment home can include a loft, solarium, or vaulted ceiling. There are also updated finishes, such as homes with stainless steel appliances, Corian counters, and home laundry appliances. The emphasis on accommodating your lifestyle continues with facilities that complement some of the finest resorts in Orlando. Five on-site swimming pools, a hot tub, and a dry sauna melt away workweek heat. Sports courts, a multi-level fitness center, and pet-friendly walking trails are all on hand to help you stay healthy.
The dark red area
South Orlando is Away from both the busy downtown area and the crowds of theme parks, in some surprising venues South Orlando offers diverse and thoughtful cuisine. In a resort's golf clubhouse, creative menus using fresh local ingredients will appear while traditional French farm-to-table recipes can be served in a small eatery. Not that this area is very far off the beaten path; there exist in the area hotels with famous names, offering thrilling restaurants run by celebrity chefs and winners of the James Beard Award. If you are searching for new twists on old classics, reliable continental service, or just something out of the ordinary, in South Orlando you can find something you want.