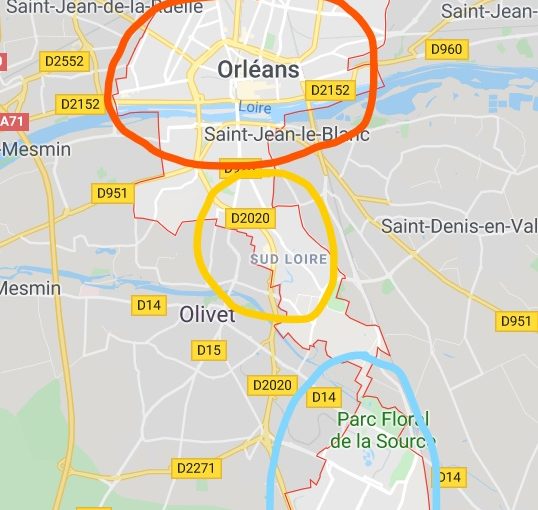 A mapee of Orleans, France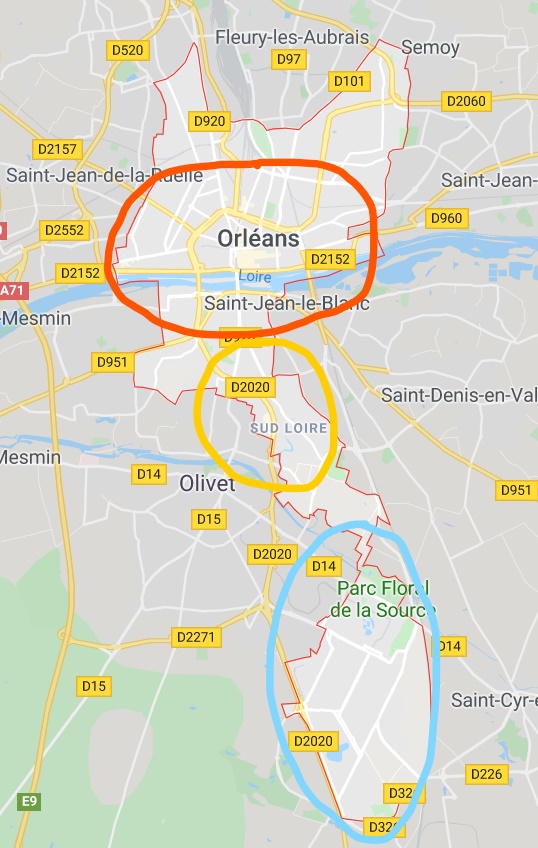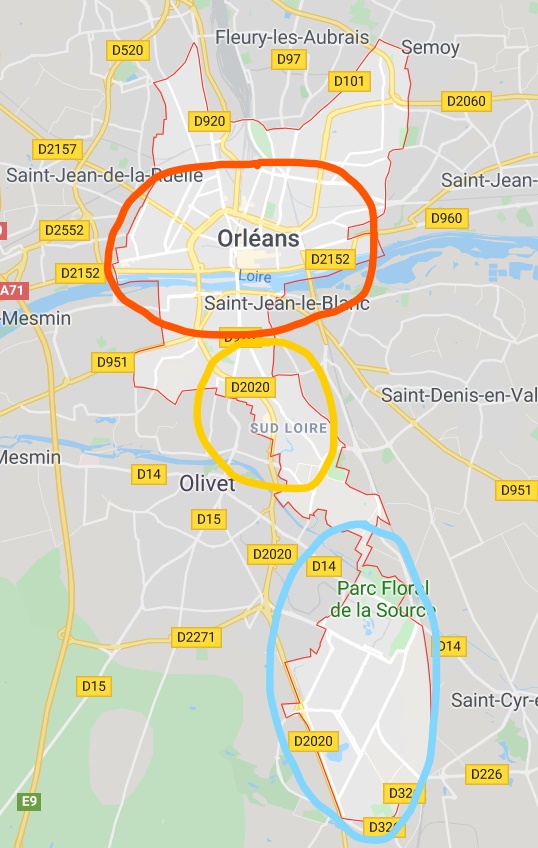 Red area : This area is the most "popular" area of Orléans: it is the area that attracts the more people, the more tourists. This area has a ton of stores, shops, restaurants, cafes and pubs, but also cinemas and theatres and great hotels to stay in. It is for sure where you want to go if you want to do shopping, but also if you want to discover the story of Orléans. Over there, you will find a lot of museums, for example the Fine Arts Museum and others, but also the house of Joan of Arc. You could also go have a walk on the edge of La Loire, and visit the magnificent Cathedral Sainte-Croix of Orléans, or just chill on the well-known Place du Martroi where a lot of people tend to reunite and where the big Christmas market takes place every year. This area is also filled with public transport which facilitate your movements across the city, such as bus and tramways but most importantly the train station.
Yellow area : The yellow area could be called the "shopping area", there are a lot of different shops to do some shopping, but also some restaurants, fast-foods, a great number of hotel, and much more. But most importantly, it is in this area that you will find the Zenith of Orleans, which is the biggest theatre of the city: it has seen a lot of different types of artists over the years, you could go see concerts, plays, but also comedy sketch, etc. And right next to it is the Parc des Expositions, in which all the big events of the city take place. It is also in this Parc des Expositions that the big Fair Ground happens every year, which attracts a lot of people and is a really nice thing to do with some friends.
Blue area : At the top of this area, there is the University of Orléans, which is where most people I know do there studies and where I do mine. This University has a really huge campus and attracts a lot of people from all around the world, it has a big diversity and there are a lot of Student Residence all around the University for the students to stay in. Right next to the University, there is the Floral Park of Orléans, which is literally magnificent: inside of this park, you will find all types of plants and flowers but also a zoological garden with all types of animals in it. You can also visit the park in a little train, play mini-golf or rent a pedal-car, and there are also restaurants and shops inside it: it is a great way to spend your day with family or friends. It is also in this area that the big hospital of the city is located.