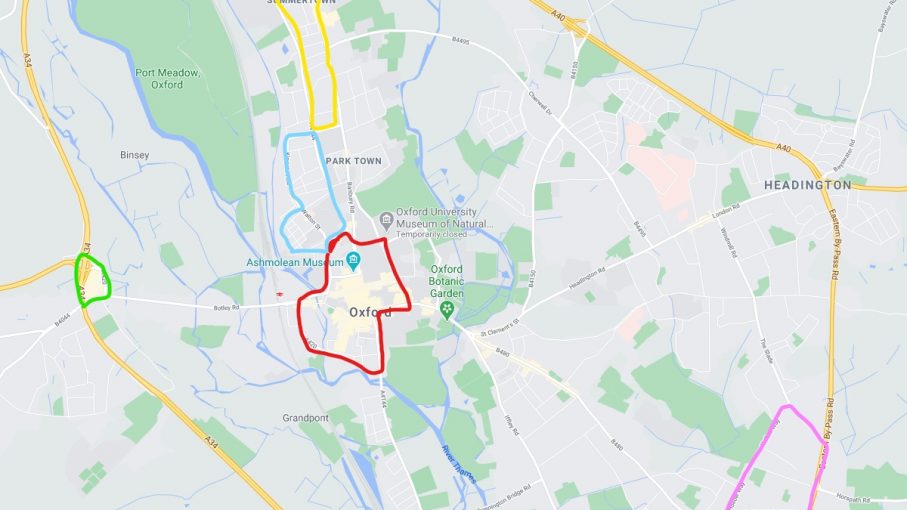 Blue Area:
This neighborhood is called Jericho and is largely considered the heart of Oxford's nightlife. There are a large number of nightclubs and bars in the area and a huge amount of night time traffic. Despite its reputation, Jericho is family friendly, as long as you avoid the bars and clubs.
Accommodation is plentiful and reasonable considering its location to the center of Oxford and other activities. Jericho is quite safe, but crime does still take place.
Red Area:
If Jericho is the heart of Oxford's nightlife, then Oxford City Center is the heart of Oxford. There are lots of things to do here, including shopping districts and traditional English architecture. The close proximity to famous buildings like Oxford University and the Botanical Gardens makes it a great option for accommodation—which is fairly pricey. Oxford City Center is a very safe part of the city, with many well-lit and its large number of tourists.
Green Area:
This neighborhood is Botley. It is one of Oxford's residential sections, so there isn't much to see other than the industrial estate. This area is relatively unsafe at night due to the low amounts of people and poor lighting in the area.
Pink Area:
This is Cowley—one of Oxford's largest residential neighborhoods. There are small commercial areas, such as pubs and convenience stores in the area, but it is mostly housing. Its distance from the city center makes it a poor choice for tourists. There is little to no accommodation in the area. Cowley is regarded as dirty and one of the city's more dangerous areas.
Yellow Area:
Another of Oxford's residential neighborhoods, Summertown is a great example of the beautiful, quaint neighborhoods in England. It has traditional English architecture and a plethora of parks and outdoor areas. There are plenty of places for accommodation and the location is nearby many main attractions, as well as the city center. Summertown is one of Oxford's more expensive locations, so accommodation can be very pricey. Summertown has beautiful scenery, with rolling hills in the backgrounds. This is a very safe area of Oxford, with well-lit streets