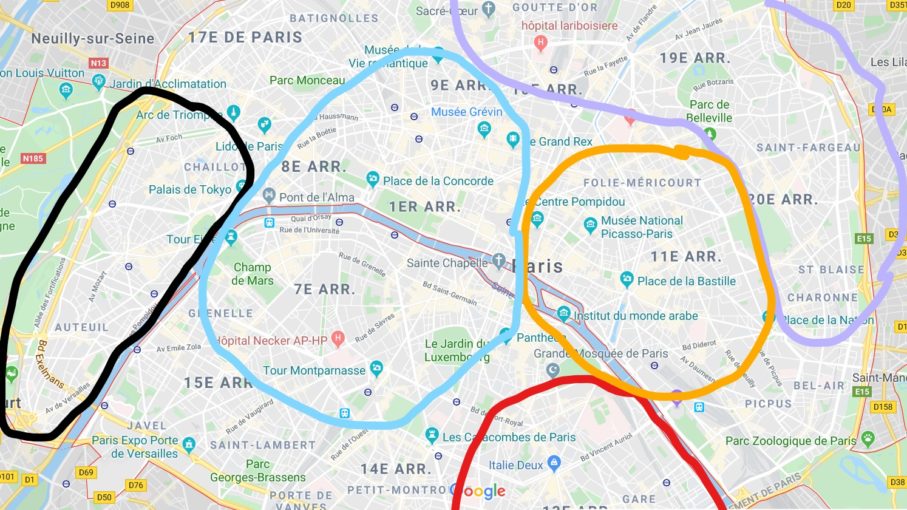 This is a mapee of Paris, France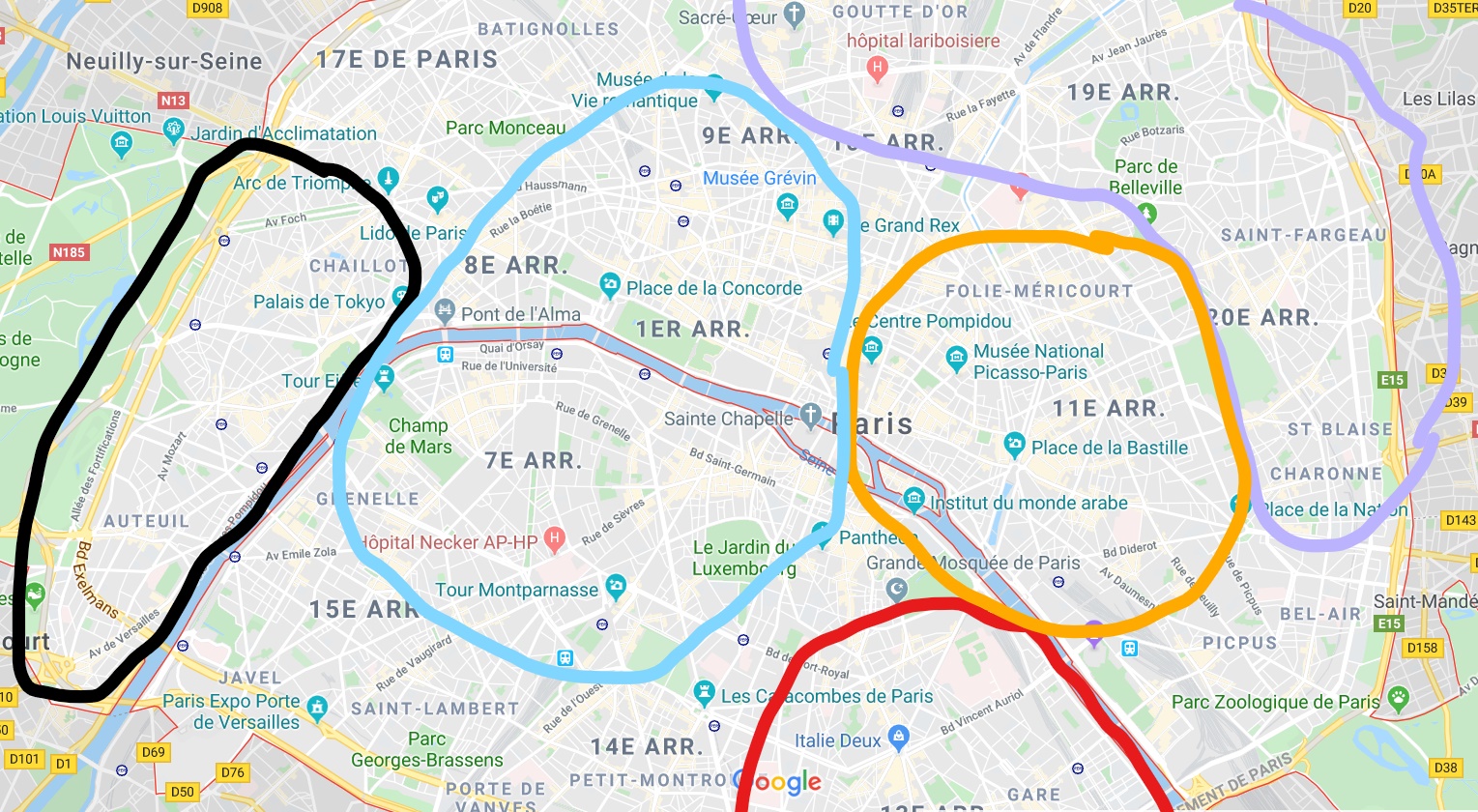 Black area : This area is sometimes seen as a stereotype of the bourgeoisie, it is a rich area, relatively middle-class/upper-class, with some nice buildings and calm streets with old-ladies walking their little dogs and hurried business men (I'm being stereotypical of course). Yet this area is probably not where you wanna go if you're looking for shops and museums or any other kind of activity. People tend to think that this area is a little bit dead. However if you're looking to spend your holidays in a calm and very chic place, you might want to look around here.
Blue area : This blue area is the center of Paris, its heart, the most touristic area. It is in this area that you will find the most well known monuments of Paris such as the Eiffel Tower, the Louvre, the Champs-Elysées, the Tuileries garden, the Arc de Triomphe, Notre-Dame de Paris and much much more. In this area, you will find the oldest neighborhoods of Paris; there are also a lot of cinemas and theaters (the Grand Rex), prestigious restaurants, well known shops, parks, etc. It is probably the area you want to go to if you want to visit all the biggest monuments of Paris, however it is maybe also the most expensive area.
Purple area : This left side of this area attracts many tourists, it is where you will find the Sacré Coeur, the Moulin Rouge, and many great restaurants and hotels to have a drink, diner, or spend the night you always dreamed of. This area is also composed of Pigalle, the red-light district of Paris. The right side of this area also has tons of wonderful restaurants, cinemas, theaters, and the Buttes Chaumont park, one of the most beautiful in the capital: it is an artificial garden that imitates mountains landscapes.
Orange area : This area is a cosmopolitan and multicultural area, it is always moving, we could say it is the "trendy area". Over there, organic shops, bike repairers and artists' studio attract young and creative population, if we stay in the stereotype of the area. People like to go there to have a walk and enjoy the cafes and bars, but it is also attractive for its numerous theaters and concert halls: this area has a lively nightlife. It is also in this area that you will find the Place de la Bastille which is the symbol of French Revolution.
Red area : This area isn't really touristic, except for the quays of the Seine. It is kind of seen as Chinatown for the Parisian. Over there, you will find a lot of Asian markets, many delicious exotic restaurants, and it is also where you will see the Chinese New Year's parade. In this area you can also find the Butte aux cailles neighborhood, which has the charm of a little village with its cobblestone streets surrounded by cafes, restaurants and convenience stores.