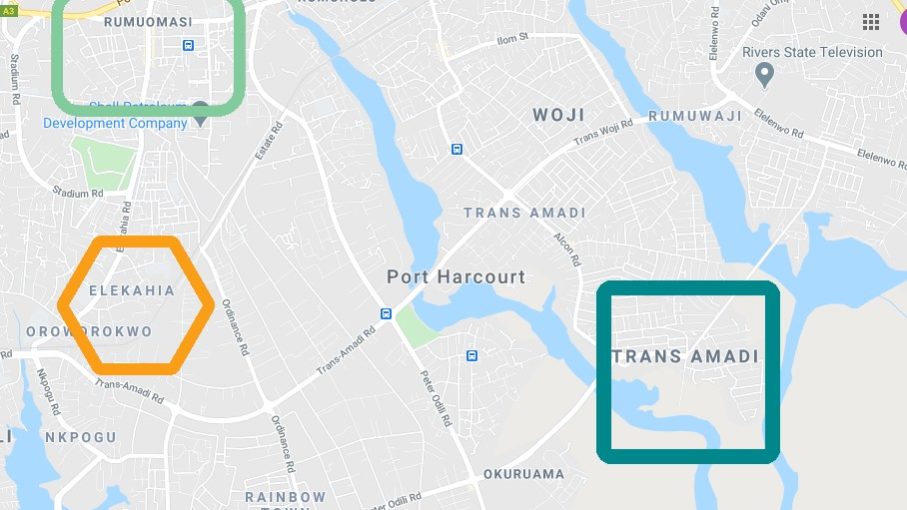 RUMUOMASI – Green Area
Rumuomasi is one of the busiest suburbs in Port Harcourt. It is located in the very popular Obio-Akpor Local Government Area. Like the rest of the city, it witnesses extended rainy seasons and short dry seasons. When driving through the city, you are sure to take note of and enjoy the amazing road network. The town is densely populated and has quite a large number of supermarkets, transportation companies, and radio stations.
Eating out is such a delight here as there are a great number of topnotch restaurants (that serve local and intercontinental dishes) to choose from. There are a number of recreational and hospitality centers in Rumuomasi, from high-class hotels to night clubs and bars. The Yakubu Gowon Stadium is one of the notable landmarks of this town. It's a sight usually loved by tourists.
Elekahia – Yellow Area
It is one of the fastest-growing municipalities in Port Harcourt. It derives a portion of its popularity from the federal government-owned University of Port Harcourt. It, therefore, has a high student population with most of them residing in its off-campus accommodations. Night clubs, lounges, restaurants, and bars litter the town, and the nightlife here is very active. Elekahia is home to some of the city's most popular television stations which include the Nigerian Television Authority (NTA) and DAAR Communications PLC (AIT).
Traffic is mostly free-flowing for the most part of the day. However, if you plan on getting to a destination on time, you are advised to prepare and leave early enough to avoid the late afternoon traffic gridlocks. Elekahia, like other parts of the city, has a predominantly Christian population and is a melting pot of people of different ethnic groups from the South-South zone of the country. Many high-class shopping malls and entertainment centers can be seen in the town.
TRANS-AMADI – Blue Area
Trans Amadi is an industrial area in the city of Port Harcourt. Glass, rubber, and aluminum products are mass-produced in the over 1000 hectare location. Trans Amadi is a densely populated residential area and a commercial hub with an abundance of businesses and office complexes. The major roads are mostly in good condition and traffic gridlocks may surface once in a while. Nightlife is quite impressive as bars, and night clubs are not difficult to find. Accommodation is slightly on the high side though. Trans Amadi is home to the highly attractive state-owned Port Harcourt zoo. It's a sight tourists love to see!