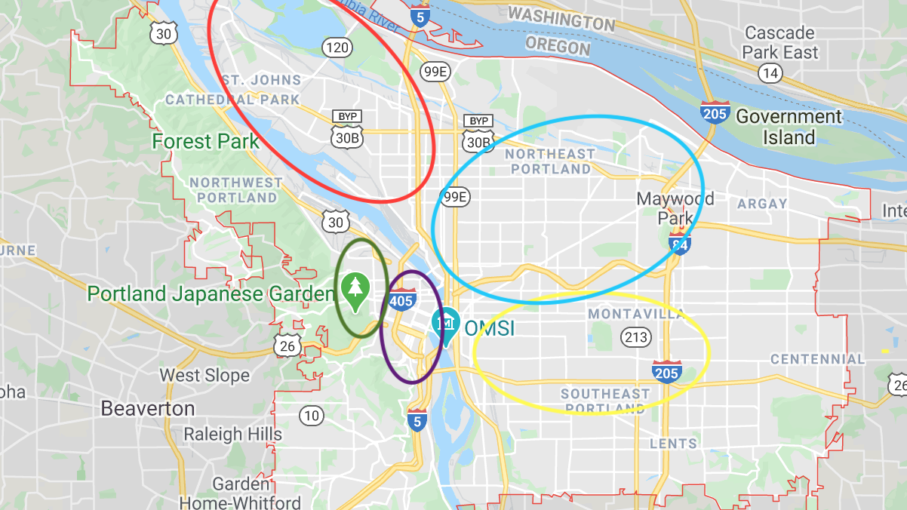 Portland Neighborhoods
Portland Oregon was designed with a grid system that perfectly segments the city into its five "quadrants", each with its own unique vibe. The city's 12 iconic bridges span the Willamette River and separate the city from east to west.
Downtown/Pearl Neighborhoods- Purple Area
Downtown Portland and the neighboring Pearl neighborhoods are full of brand new luxury condos, minimalist coffee shops, deconstructed food, and expensive cocktails. Tom McCall Waterfront Park offers views of many of Portland's beautiful bridges and is a popular choice for jogging. In the spring, cherry blossom trees gifted from Japan bloom in an explosion of pink.
The weekly Saturday Market attracts hundreds of artisan crafters and chefs. Pioneer Square is a friendly meeting place and is where Portland's beautiful 19th-century courthouse stands.
NW Portland (Slabtown/Goose Hollow)- Green Area
Northwest Portland sits above the Pearl and is known for intimate boutiques, dive bars, victorian houses, and some of the town's best brunch spots. With a cozy neighborhood vibe and walkable tree-lined streets, many come here to buy quirky gifts and linger over a cup of a coffee at Barista.
If you are eager to experience nature without leaving the city, head to Forest Park. One of the largest urban parks in the country, hikers are rewarded with sweeping views of the city at the trail's end from Pittock Mansion.
Northeast Portland- Blue area
Home to the Alberta Arts District, Northeast Portland is known for its culture and street fairs. Art galleries, independent coffee shops, vegan restaurants, and neighborhood bars make it a great place to spend your afternoon.
Every final Thursday of the month, Last Thursday is hosted on Alberta Street. Musicians and artisan crafters set up shop and the neighborhood becomes one big, welcoming party.
Southeast Portland- Yellow Area
Southeast Portland is undeniably the hippest part of town. Come here to pick up a one-of-a-kind used dress at the House of Vintage on Hawthorne street. Families love to picnic and feed the ducks at the lush, expansive Laurelhurst Park.
A hub of Portland's famous food trucks in the middle of Hawthorne Street draws large crowds. You can step inside a converted bus at Tov Coffee & Tea and sip your Turkish inspired drink from its roof.
North Portland- Red area
North Portland is a bit out of the way but is worth the trip for the majestic St. John's Bridge and Cathedral Park. This steel suspension bridge has a gothic look and is breathtaking to walk or drive over.
North Mississippi Ave is one of the most eclectic streets for bar hopping in the city. Sip on a delicious hand-crafted cocktail at Moloko Bar and gaze at their expansive saltwater aquariums and tropical fish.