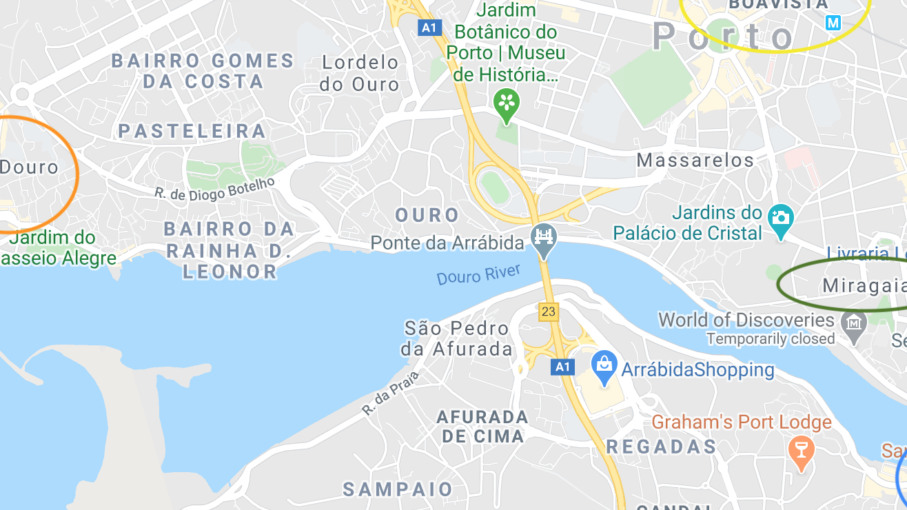 Porto Neighborhood Guide
Portugal's second largest city, Porto, is known for its rich history, warm people, and mouthwatering food. 
Ribeira- (Red Area)
Starting along the banks of the Duoro River, Ribeira is part of Porto's historic core, with dozens of city blocks recognized as one large UNESCO Heritage site. You feel like you have stepped back in time when you walk through Ribeira, with its beautifully tiled buildings, incredibly narrow cobblestone streets, and cozy cafe terraces. Its colorful buildings climb up Porto's hills, making the neighborhood a maze.
Although it is popular with visitors, Riberia is still one of the best places to go for authentic Portuguese food and remains popular with locals. Watching the boats pass by with a traditional cup of wine in hand is the preferred afternoon activity.
Miragaia- (Green Area)
Trek up some of Porto's steep hills to the slightly less touristic neighborhood of Miragaia. Some of the city's oldest churches, vibrant street art, and best viewpoints can be found in Miragaia. Here you will find welcoming bars, great seafood restaurants to try bacalhau (Portuguese Atlantic cod), exciting nightlife, and a trendy local vibe.
With a temperate climate and an open culture, you will always find locals on the street enjoying their walkable and compact neighborhood.
Baixa- (Purple Area)
The very center of Porto's downtown, Baixa is home to many of Porto's top touristic draws. Livraria Lello is one of Europe's most famous and stunning bookshops, with a beautiful twin wooden staircase and always has a long line. You might not find many locals in Baixa but you will find many multicolored and handpainted tiles on its buildings, some of the region's best food products packaged and ready to take home with you, and beautiful luxury hotels. 
Boavista- (Yellow Area)
Boavista is the newest part of Porto, with a much more modern vibe. As it is a bit of a walk from downtown, you won't find very many tourists here. Instead, wealthier families and white-collar businesses call this posh area home.
Many locals come here for culture as it houses some great museums, art galleries, and local boutiques. 
Foz Do Douro- (Orange Area)
Head along the river towards the sea to the relaxed coastal neighborhood of Foz. You can still get a feel of what life was like for the fisherman who used to call it home. Locals come here to chill out on the beach, jog down the large waterfront, grab a drink, and enjoy the peaceful atmosphere.
Vila Nova de Gaia- (Blue Area)
Walk across the beautiful steel bridge from Porto over River Douro, to reach Vila Nova de Gaia, which is technically its own city. Gaia is less crowded and cramped than Porto but is still full of Portuguese charm. Luckily, it is not a far walk from the center of Porto and is where everyone goes to sample some of Portugal's famous port wine. 
Boats filled with barrels of the fortified wine anchor next to the town to transfer it throughout the nation. Head to one of the city's many wine cellars to learn the history of the wine and enjoy a tasting.