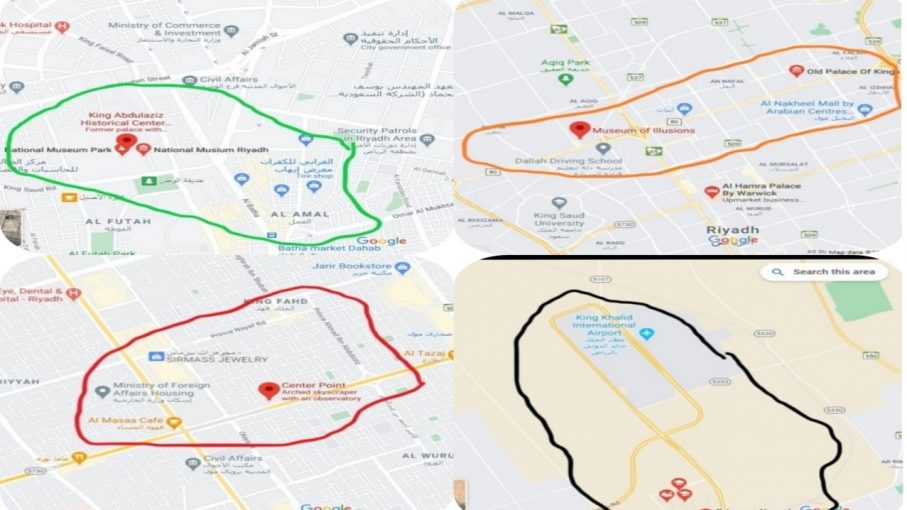 Black Area
This area is located in the north from the centre of the city, which is famous for their emerging development in every sphere of life. The real example of King Khalid international airport, the world largest airport by land area and the princess Nora bin Abdul Rehman University, which is also the world largest women university. This area is also famous for their "Jinadriyah festival", the biggest festival in the Arab world which has many traditional and cultural events like camel racing, wedding feasts and several entertainment activities which attract visitors from inside and outside of the kingdom.
Green Area
This area is famous for their great tourist spots like the King Abdul Aziz historical centre and national museum of Riyadh which are distinguished for their integrated exhibit collection of antique pieces, scripts and modern digital display panels. "Al- Musmak place" is also one the important historical place in the history of Saudi Arabia kingdom.
The area consists of various shopping malls, stores and warehouses like "Batha Market, Hilla Gold market and MT care warehouse club.
Orange Area
This is the most special area because of old place of kings. The area is famous for their restaurants and shopping malls like "Al-Nakheel Mall" which has variety of fashion design brands and attractive food courts for tourists.
The museum of illusion is also one of the perfect, delighted and catchy place in the Arab world, which is suitable for an entertaining and social tour in the world of illusion for all generations with new experience and fun.
This area also has the distinction of first university, the "King Saud University" in the Arab world.
Red Area
The area is famous for its skyscraping buildings, great malls, luxury hotels and tourist spots. There are some collections of famous spots which are really worth seeing. I.e.: "The Kingdom Tower" the tallest building in the country located in the center of Riyadh City which provides a stunning view of the city.
"Burj Rafal" the tallest tower in the city of Riyadh which has a charming view.
This area contains of many Government. Administrative buildings like, consultative Assembly, Supreme Judicial council, Foreign Embassies and council of ministers. The area is called a business hub of the country that is why it hosts banks and companies headquarters like, National Commercial Bank, Saudi Arabian British Bank.