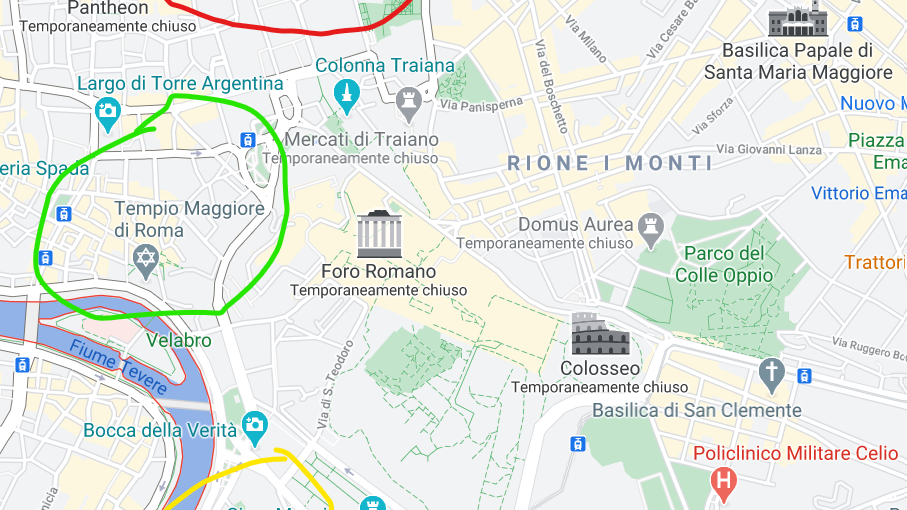 The whole area – a part of Municipio Roma I
Municipio Roma I is the historic centre of Rome.
I advise you not to focus on the main attractions only. For instance, you may have heard about some famous churches in Rome, such as the Basilica Papale di Santa Maria Maggiore, which are obviously worth a visit. Anyway, if you don't have enough money to pay for the main attractions and you have the patience to walk and look around, you will find some less popular little churches which are very nice to see. Plus, the entrance to these churches is free.
You will manage to find an accommodation at an affordable price here, as did I. You might also try and look for accommodation somewhere else and reach the centre by bus.
Red area – Trevi fountain
Trevi fountain is one of the main attractions in Rome. The fountain itself, of course, is unforgettable. Walking there, you will almost feel like you're walking in a little town. Trevi square is quite tiny too.
When I arrived, the square was full of people. You will find some nice Italian cafes and restaurants in the nearby. Moreover, it will only take a 10-minute walk to go to the Pantheon from there, and a 20-minute walk to reach the Coliseum. More in general, some of the main attractions in Rome are within reach.
Yellow area – Orange Garden, panoramic view
The panoramic view from Viale Nino Manfredi is stunning. All you have to do is cross the Orange Garden, and you will reach a point from which you will see a huge part of the city from above. It was a wonderful, breath-taking experience.
Both the panoramic view and the Orange Garden are never, or seldom, crowded. It is always better to go there when the weather is good, in order to get a better view.
Green area – The Jewish quarter
Another interesting area is the one in the nearby of Teatro Marcello and Portico d'Ottavia, namely the Jewish quarter. It is very interesting to visit, you will see the Jewish Museum and also the Great Synagogue of Rome.
Moreover, you will find many nice Jew restaurants to eat in. I ate in one of those restaurants, the food was great and the price more than ok. There were quite a lot of people when I visited, but not that many, considering it was lunchtime.