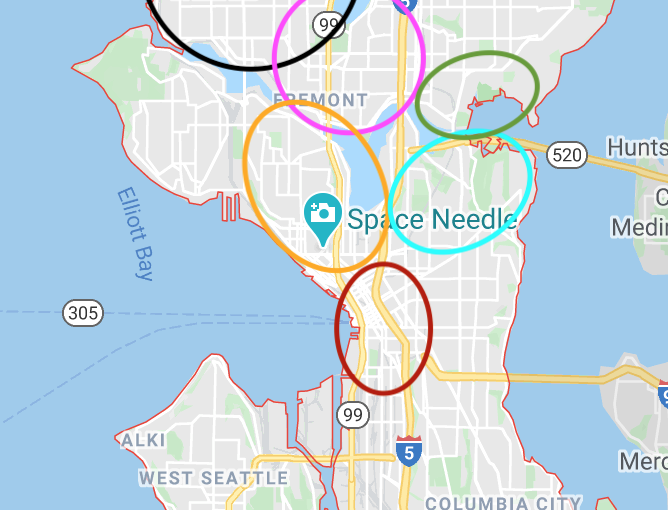 Seattle Neighborhoods
Seattle is a beautiful city on the water full of distinct neighborhoods and is heaven for those interested in independently roasted coffee, fresh seafood, bike-lovers, and hoppy artisan beer.
Capitol Hill – Blue area
Capitol Hill is the place to go when you want a night out. With bars and nightclubs playing live music daily, the streets a constant throng of hip locals, and quirky local theatres, you will never be bored here. During the day, it's nice to come here to sip on craft beer, look at the vibrant street art, and enjoy a burger at a locally owned restaurant. Once a year, the wild Capitol Hill Block Party takes over the neighborhood, with national headliners playing in the streets.
Queen Anne- Orange Area
This hilly neighborhood is named for the historic mansions that you can still spot today. Naturally, it's known for being a bit posh and refined but without the pretentious feel. You can still find independent bookstores and it is a welcoming, family-friendly neighborhood. The famous Space Needle can be found in Queen Anne as well, ensuring that it is full of visitors year-round.
Downtown/ Waterfront- Red Area
Seattle's downtown area is a West coast rarity. With glittering skyscrapers, a walkable collection of large busy streets, and craft breweries, you get the big city feeling mixed with a warm neighborhood vibe. Pike Place Market is a huge draw for visitors, with a fresh fish market and local artisan goods.
Ballard- Black Area
Ballard is a trendy neighborhood with upscale dining popular with the young in-the-know crowd. The nightlife is legendary for lasting until the early morning while the daytime is known for attracting a steady stream of shoppers and happy hour frequenters. Modern construction melds perfectly with its historical Scandinavian architecture, giving it a one-of-a-kind style. A farmers market brings in health-conscious crowds every Sunday of the year.
Freemont- Purple Area
A residential and tranquil area, Fremont isn't the place to go for a wild party. Full of beautiful craftsman houses and modern condos, there is an eclectic mix of people who call this central neighborhood home. Families and locals come here for the rows of locally-owned restaurants, craft breweries, and expansive Sunday Market. Throughout the year, various neighborhood block parties liven up the area and bring large crowds.
University District – Green Area
Aptly named for housing the urban University of Washington campus, the U District is home to stunning Greek Row mansions, vintage clothing stores, cheap eats, and dive bars. Students are always hosting events, creating art, and hanging out at coffee shops. Since the campus is fully incorporated within the city, you won't feel out of place if you aren't university-aged. The young at heart are always welcome here.
By Bianka Cramblit