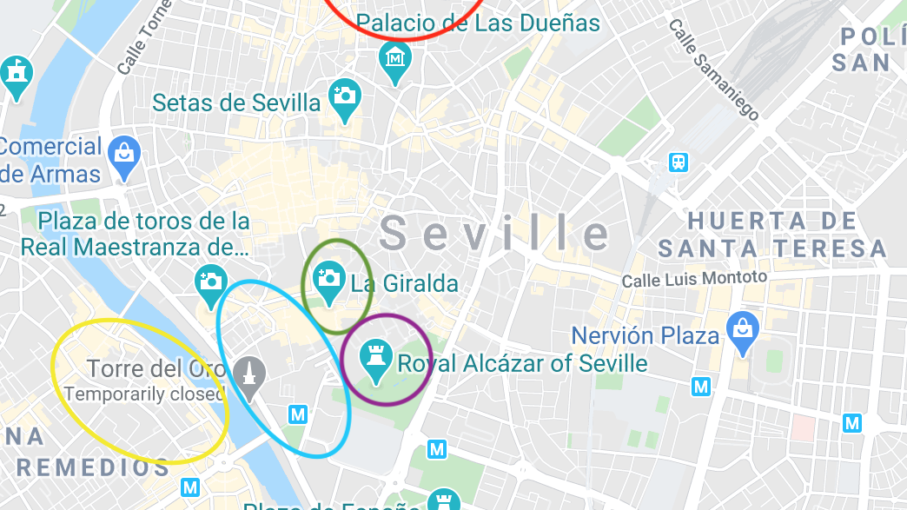 Sevilla Neighborhoods
The capital of Andalucia, Seville (Sevilla in Spanish) is the kind of city that most people imagine when they think of Spain. The city center is compact and walkable, making most of its most popular neighborhoods great options for spending an afternoon.  
El Arenal- (Blue Area)
Located directly in the center of town, El Arenal is home to Seville's famous bullring and its iconic Gold Tower. This is a posh and relatively expensive residential neighborhood. Expect to see locals dressed smartly on their way to eat at sophisticated restaurants. The most popular meal is called the Menu del Dia, a multiple course lunch that can easily take an hour or two. Even at the nicer restaurants in El Arenal, the meal is usually a good deal, so put on something nice and enjoy lunch like a local. 
Old Town/Centro Historico- (Red Area)
Sevilla's old town is dominated by the Sevilla Cathedral, the largest in Spain. This is where you will find a lot of experiences designed for visitors, from tapas bars to souvenir shops to restaurants with flamenco dancers. Most people grab a cone of gelato and meander down the large pedestrian streets to enjoy the shopping, the majority being popular and designer clothing chains with a few local spots mixed in. 
Santa Cruz- (Purple Area)
Santa Cruz oozes with traditional Spanish style and is loved by visitors for its colorful tiled patios, winding cobblestone streets, classic Andalucian architecture, and inviting restaurants. Merging with Old Town, this neighborhood is always bustling with people and can feel crowded at peak times. 
Santa Cruz is a welcoming place to stop and grab a cocktail but the prices will likely be higher here than residential neighborhoods. 
Triana- (Yellow Area)
A lot of tourists overlook the lively neighborhood of Triana, which is located directly across the beautiful Isabel II Bridge. This neighborhood is full of local bars, exciting nightlife, and is always bustling with locals. This is a good place to get a genuine feel of Spanish life. Plus, you can find better deals on traditional drinks and food here.
A lot of visitors choose to stay in Triana since it is still close to the center but with a local, neighborhood vibe. 
La Macarena- (Red Area)
The northern area of Sevilla is called La Macarena. There is a one-of-a-kind blend of modern and traditional architecture in this growing neighborhood. At its core, it is a hip and trendy area. Since it is a farther walk from the most touristic part of town, you will get a true feeling of real Spanish life here. This is a busting social area, with lively bars, traditional tapas, approachable restaurants, and a friendly atmosphere.