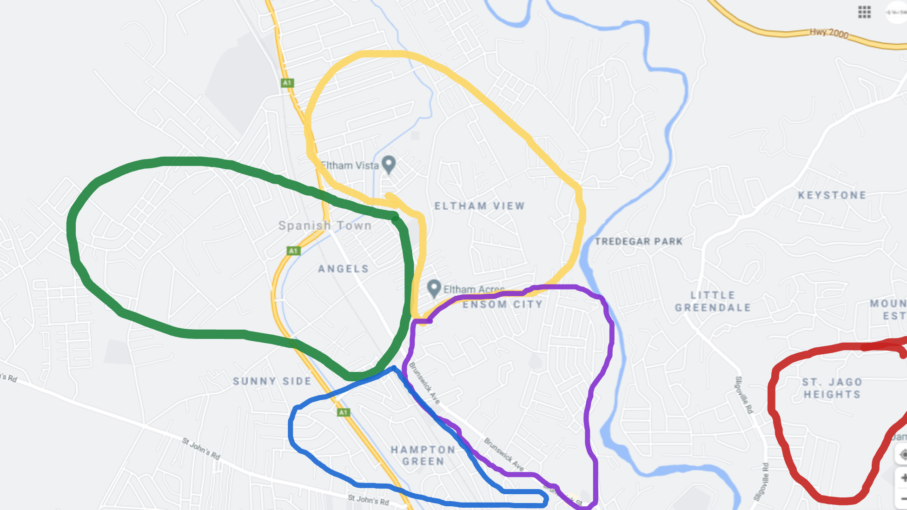 Green Area:
This includes the Angels community. Angels is a well-developed neighborhood that is easily reached by taxi. Viewed as one of the city's best neighborhoods, the area is an upscale residential one that offers several high-end accommodations. While it is not buzzing with nightlife and entertainment, there are still several activities that you can engage in. For those who love to swim, the neighborhood has a river and pool area.
Red Area:
This includes the St. Jago Heights neighborhood. Considered as the city's premier and best community, it is located mere minutes from the city center via taxi. It is primarily a residential area that offers upscale but expensive accommodation. It offers some of the best designed and modern accommodations with lush sceneries. The area is not ideal for tourists who are party animals but it's great for those who love to enjoy nature quietly.
Yellow Area:
This area includes Eltham View. It is minutes away from Angels as well as the city center via a quick taxi drive. Nightlife and entertainment here are more locally based and a bit limited. For visitors who want to party like and with the locals, then this the place for that. The area also has several restaurants that offer local cuisine and tourists can easily enjoy authentic Jamaican jerk chicken by supporting a community jerk vendor. The area is really a blend of commercial and residential properties. Accommodation is safe and affordable. For those who love sports, they can stroll over to The G.C. Foster Community College to see upcoming athletes train and compete.
Purple Area:
This includes Ensom City. It is mostly a residential neighborhood. This area is closer to Eltham View but can be reached within minutes from the city center by taking a taxi. It houses great, affordable, and secure accommodation but lacks nightlife and entertainment. The area still has a variety of amenities that will make your stay comfortable. Generally quiet and pleasant, it is more suited for those who want a more local but quiet and peaceful scene.
Blue Area:
This includes Hampton Greens. It offers serene, peaceful, and safe accommodations that are surrounded by nature. It offers little to no nightlife and entertainment. A cheap taxi drive from the city center easily gets tourists here.