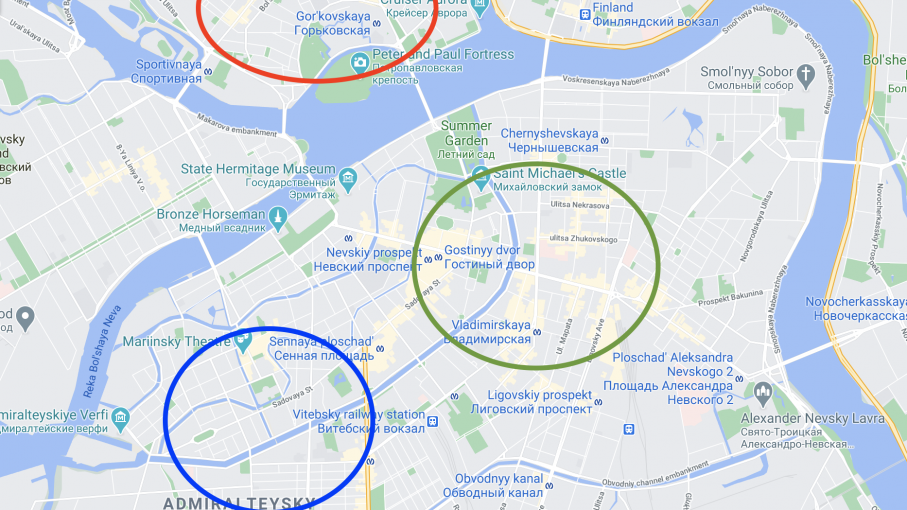 Blue Zone
Theatre Square
One of my favorite areas of the City and home of the Mariinsky Theatre, the Theatre Square, is filled with artistic flair, ballet dancers and theatre actors rushing to practice. If you are sure you will watch a Ballet or Theatre show, book online ahead of time, as there are limited tickets available onsite. We did land up getting booth tickets to Swan Lake, which was a childhood dream of mine. I expected the dress code to be a bit more formal, but others were relatively casual, although some patrons dressed to the nines. Walking around the theatre area, don't forget to look up and take in the architecture of the area, pop into the magnificent Roman Catholic church of St Stanislaus, or even take a reprieve from the winter cold by popping into a local coffee shop or restaurant for a hot chocolate and apple pie. The food in the area is spectacular, so don't hesitate to take in the city's culinary delights.
There are lots of hostels in this area for more cost-effective accomodation.
Red Zone
Gorkovskaya
Just outside of the city center, this area is a great place to book accommodation that is more cost-effective than the city center. St Petersburg has an excellent Metro system so that you can access the city at a moment's notice. If you are not fluent in Russian, download the Google Translate app, as many locals don't understand or speak English, so it will help to buy tickets if you can show them a translated question. There are tourist kiosks with younger tour operators that can assist if you get stuck, but we got used to using the metro reasonably quickly.
Most of the signs are in Russian, so we found taking pictures of the metro stops we needed was helpful.
Walking in this area is safe, filled with beautiful architecture, local and international fashion shops, and restaurants to delight. There is a large modern mall, which was where we got many supplies for our self-catering accommodation.
A visit to the St Petersburg History Museum is worth the time to get to know and understand the nation's history and background.
Green Zone
City Centre
Russia, in general, but St Petersburg specifically, is a juxtaposition of old Russia and traditions and the new world, ultra-modern consumers.
Although the locals may seem aloof, they are adamant about being beautifully made out and fashionable. The city center is filled with top-end fashion stores for all of your shopping delight and vibrant nightlife to end off the day. The streets initially looked dull with little to no branding on the outside, but as soon as you stepped through some non-descript doors, a whole new world opened up into bustling activity of shopping opportunities. Don't be afraid of exploring the upstairs shops. This is where the bargains are.
Caution, though, drinking too much in a local bar may end in you paying for a lot of drinks for some local ladies that may not have your best interests at heart. The city is still filled with opportunists looking to scam a tourist as many of our friends found out. Keep your wallets close to your chest, along with your passport, as you may be required to present it to the police at any time.