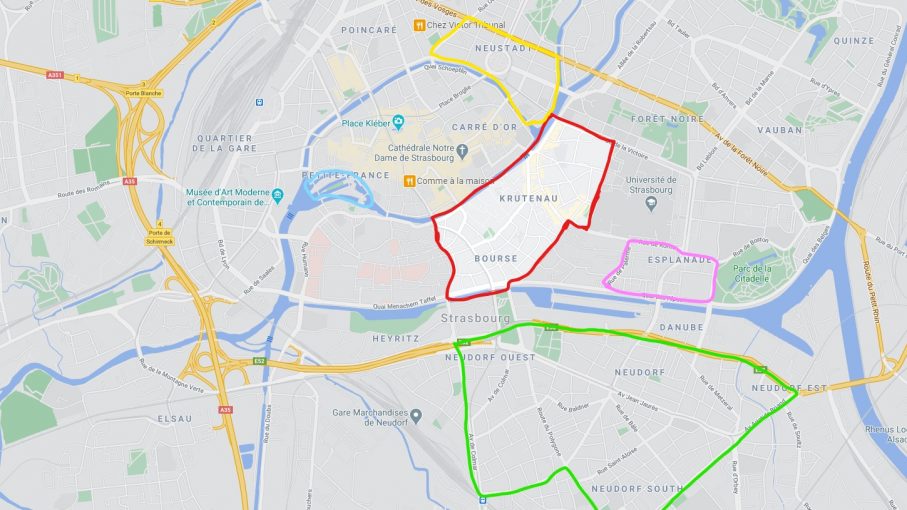 Blue Area:
This neighbourhood is called Petite France and is one of Strasbourg's biggest tourist hotspots—and for good reason! Petite France has many gorgeous eateries on the waterfront and is the perfect place for a romantic date. This neighborhood is very safe due to the large number of tourists and has a bustling night life that is suitable for children. Accommodation is more expensive here.
Red Area:
If you are looking to embrace your touristic status, then Krutenau might interest you. Krutenau is one of the biggest tourist locations in Strasbourg and is largely known for its beautiful Alsatian architecture. Krutenau is central and is a great choice for accommodation, as it is not far from main attractions like Cathedrale Notre Dame De Strasbourg and Palais Rohan.
Along the river, Krutenau brings out the best in Strasbourg. There are dozens of quaint, waterfront eateries and a shops a few streets back.
This is a very safe neighborhood with well-lit streets and an abundant supply of tourists.
Green Area:
Neudorf is one of Strasbourg's biggest commercial districts. If you are looking for a place to shop, look no further. There is a cinema, shopping mall and many local restaurants in the area, mostly on the waterfront. Neudorf is Strasbourg's trendy neighborhood, with a strong industrial aesthetic and hip bars and eateries.
Neudorf is safe, with a large amount of tourist traffic and well-lit streets. Accommodation is relatively affordable.
Pink Area:
This neighborhood is Esplanade. While Esplanade doesn't have the iconic tourist hotspots or beautiful architecture, accommodation is plentiful here, and quite affordable. There are a few restaurants sprawled around, and it is very safe.
It isn't the prettiest neighborhood of Strasbourg, with dirty, sprawling high-risers a-plenty, but its close proximity to many of Strasbourg's best attractions makes it the perfect place to stay.
Yellow Area:
Neustadt is the German district of Strasbourg. The streets are littered with hotels and restaurants, making it an ideal place to stay. Neustadt has a rich history and has a strong German aesthetic, making it one of Strasbourg's more interesting locations. Similarly to Krutenau, Neustadt is a very popular amongst tourists and is a very safe place.