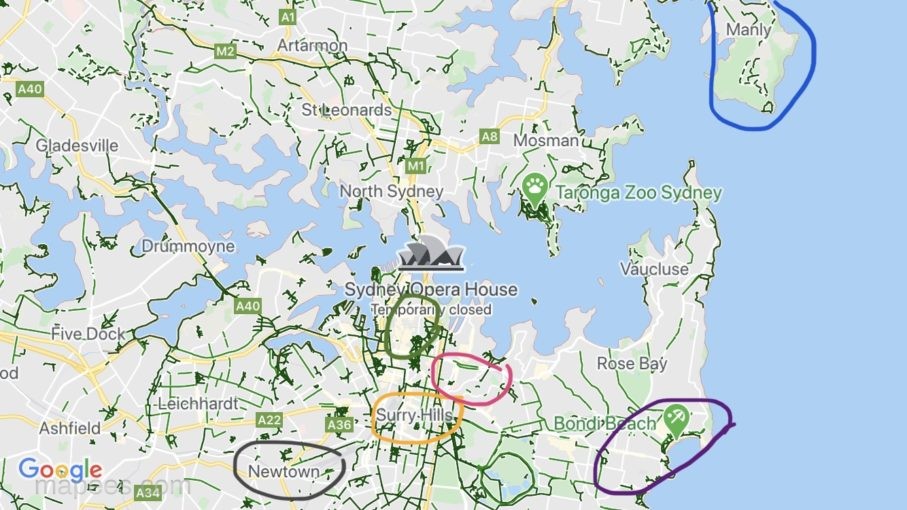 Central Business District or CBD (green): Stay in the hustle and bustle of the city for the high-rise buildings, both luxurious and affordable shopping, and endless dining options. Be sure to visit the NSW Art Gallery (free) and the Sydney Museum for a dose of history. If you want some downtime, I highly recommend strolling along Circular Quay for an epic view of the Opera House and a visit to the Sydney Botanical Gardens. As for accommodation, it will be more on the pricey side within the business district.
Surry Hills (orange): If you are a lover of fashion and boutique shops this is the place for you. This neighborhood is known for antique dealers, art galleries, cafes, and many unique shops. Have fun window shopping, try on some vintage clothes, relax in a café, go bar hopping, and get inspired by the many contemporary art galleries. Surry Hills is vibrant and a lovely village to explore by foot and is easy to access other areas of the city from here.
Newtown (gray): This neighborhood is known for its diverse community. You can expect to see many hipsters, musicians, and students wandering the main street here. Newtown is a foodie's paradise as there are multitudes of restaurants for any craving that you may have, and quite a few vegan-only restaurants too. I'm a big fan of Newtown's live music venues, thrift shops, art galleries, and buzzing nightlife. To visit other areas of the city from Newtown you can purchase an Opal card which you can use for ferries, trains, and buses, or you can walk but it may take you quite a while depending on where you are going.
Bondi Beach (purple): Stay at the iconic suburb known for the gorgeous views and Aussie TV show: Bondi Rescue. Take surfing lessons, check out the Saturday organic markets, or simply relax in the sand. This is a fantastic place to be, especially in the summer months. Be sure to walk the stretch from Bondi to Coogee beach, it is easily my favorite activity to do in Bondi. I recommend purchasing the Opal Card if you plan to visit more areas of the city because Bondi is far from the city central. Naturally, accommodation near the beach will fall more on the expensive side.
Manly (blue): A 45-minute ferry ride from Circular Quay will take you to the gorgeous Manly Beach. An Opal Card will be necessary for both visiting or staying here unless you want to spend money on Uber rides. In the early hours of the day I recommend a bushland stroll from Spit Bridge back to Manly for great views of the bay. Be sure to grab a fish and chips lunch for take-away on the beach but be mindful of the birds. They are fearless and will steal your meal regardless if it is held in your hands or set on your lap.
Darlinghurst (pink): Famous for its annual Mardi Gras Parade, so it is fair to say this area is an out and proud neighborhood. Darlinghurst has the ideal energy for both party seekers and those who simply want to relax. Expect chill cafes throughout the day, and hyped clubs and bars throughout the evening. You can anticipate a fun time in Darlinghurst regardless of what you're after. It is easily walkable being that it is located near Surry Hills and the city central. Otherwise the underground is also available and nearby.