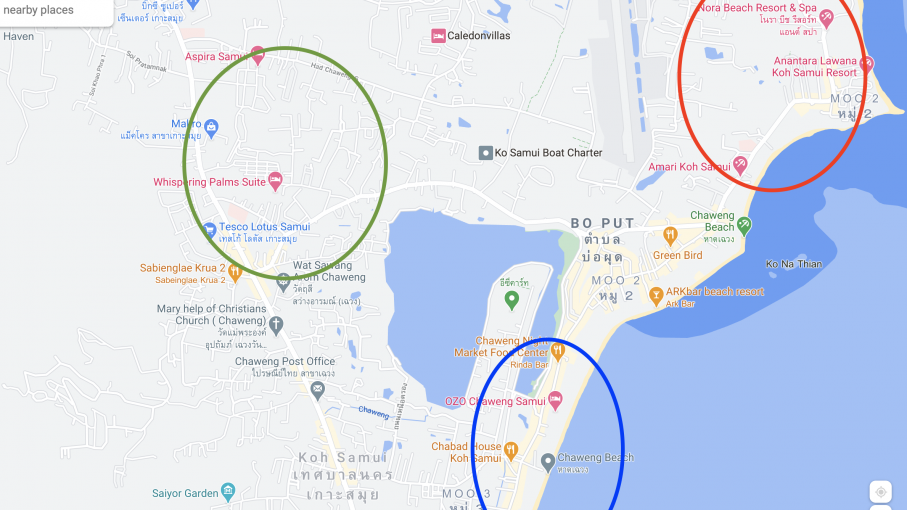 Blue Zone
Chaweng
Very close to the Koh Samui Airport, Chaweng Beach is a busy beach on the island filled with tourists looking for luxury and a taste of the Island. Large hotel groups line the beach, but be careful of the hotel food prices if you are looking for a cheaper Thailand experience.
This is definitely the trendy part of the Island with a lively nightlife, trendy restaurants, and an eclectic mix of travelers.
You can book trips to the Angthong Marine Park or attend a kickboxing match close by. It does help to stay here if you are not looking at doing much traveling, so you can rather book tour groups for the day and have Chaweng beach as your home base.
Red Zone
Nora Beach
Closer to the Koh Samui airport, an amusement park and Nora Beach, this area is a little off the beaten track and far quieter than the Chaweng Beach hotels. These may be far more appealing to families or couples who are looking for a little bit of quiet and privacy over their holiday. The hotels are cost effective if you are looking for a cheaper option, but they are a little of the beach, so it does take a bit more effort to hit the sand. It is ideal to have some form of transport even if you rent a scooter, so you have the opportunity to ride to the main beach if you are wanting to be part of the energy of the island.
Green Zone
More populated with apartments and stand-alone accommodation, the area is a bit far from the action. You will need to have your own transport, as taxi's are not hanging around this area looking for a fare. This hilly area offers lovely views of the surrounding forest and sea landscape. There are some main roads that take tourists over the island, but it is a little more difficult to navigate.