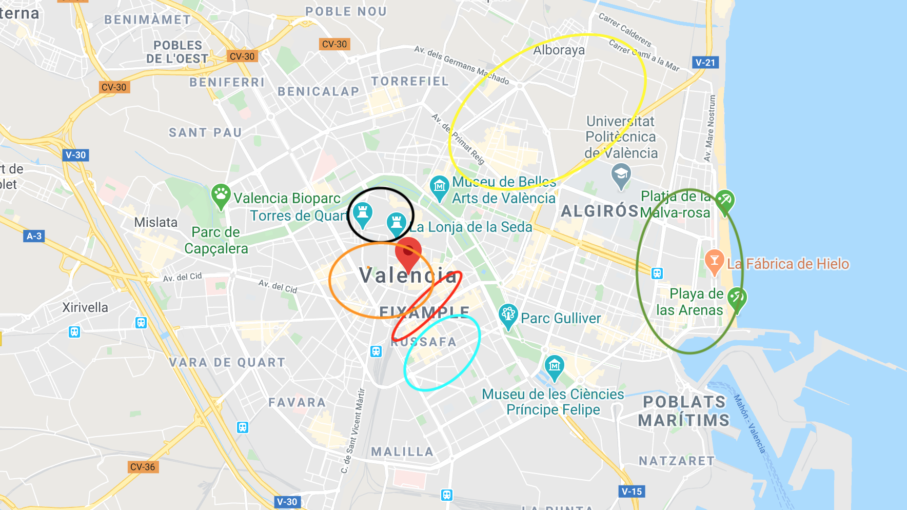 Valencia Neighborhood Guide
One of the largest cities in Spain, Valencia sits on the Mediterranean coast and is known for its glittering white beach, traditional cuisine, and architectural gems. 
Old Town/Ciutat Vella- (Orange Area)
The historic center of Valencia is called Ciutat Vella and is always bustling with passerby. Most tourists start their day here before venturing elsewhere. There are countless restaurants and bars here, ranging from the traditional to the hip and modern, ensuring that there is something for everyone. 
Located directly in the center of town, this walkable neighborhood houses Valencia's beautiful cathedral and a vibrant city market. Locals come here to pick up fresh seafood, produce, and grab a quick snack. 
El Carmen- (Black Area)
A small neighborhood nestled in Old Town, El Carmen is a popular residential area for the younger generation. People come here to walk through its picturesque winding streets and vibrant buildings. In the daytime, cozy bars offer up a welcoming seat for the thirsty and hungry. During the night, clubs open their doors and the streets are a steady trickle of party-goers looking for a good time. 
Ruzafa- (Blue Area)
South from the city center is Ruzafa, without a doubt the center of all things hip in Valencia. This is where the trendiest in the city head for a pour-over at a minimalist cafe, a photo-worthy brunch, and cheap tapas. With such a young crowd, the nightlife here is known to be rowdy and go until the early morning. 
Benimaclet- (Purple Area)
Nestled between two universities, Benimaclet is diverse and popular with students and families alike. Not close to the city center or the beach, it isn't visited by as many travelers as other neighborhoods. This has allowed the area to stay affordable, with family restaurants and bars serving up both traditional Spanish food as well as being a popular spot to open a multicultural ethnic eatery. Valencia's public transportation is well connected to Benimaclet, so many come here to enjoy one of the most unpretentious places in the city.
L'Eixample- (Red Area)
A posh and sophisticated neighborhood, L'Eixample is centered around luxury shopping. Its long, wide boulevards house designer boutiques, sit-down restaurants, and fancy cocktail bars. Come here in your best clothes and with a full wallet.
El Cabanyal- (Green Area)
Although Valencia is a coastal city, the majority of the residential areas are located a bus ride away from the sea. El Cabanyal is one of the few residential neighborhoods right next to Valencia's famous sandy beach. With whitewashed buildings, citrus trees dotting the sidewalks, and every restaurant selling Valencia's most famous dish, paella, it is a vibrant part of the city. Popular with tourists and locals alike, the beach is full of lounge chairs with umbrellas, sun tanners, and tranquil, warm seawater.