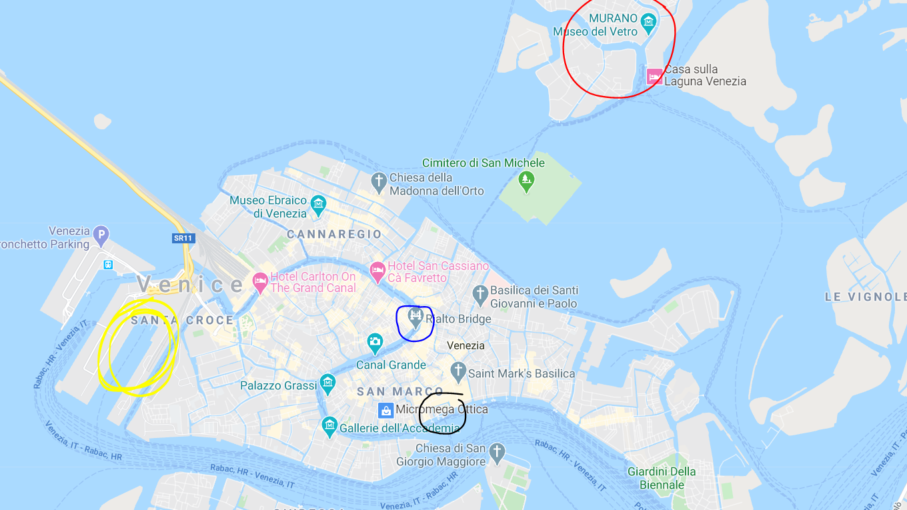 Murano is one of the Venetian Island, which can be reached by a special water bus called Vaporetto. It is a world – renowned place for glassmaking and the first place in which this art emerged. Currently, tourists are able to visit hundreds of small, family shops in which they can not only buy glass jewelry, figures, pens and everything else, but they can also admire how the shop owners are creating the goods they will purchase.
Rialto Bridge is one of the most romantic places in Venice – reachable both by a gondola and on foot, it is the main place of the Grad Canal, the main water canal in Venice. Nearby you can find many scenic cafes and restaurants in which you can enjoy a glass of wine or an espresso and a beautiful view at one of the most well – known bridges in the world. During times like the Venetian Carnival, the bridge becomes the best observation spots for the vivid Italian parades.
Black – St. Mark's square
The heart of Venice is not to be missed. It is an example of great European architecture and an amazing photo shoot place – with the gondolas' parking, the breathtaking Doge Palace (which is another place worth visiting), the square mesmerizes with its lavish cafes, including the neo – baroque Florian café, the oldest café in the world. The stores around this area are some of the most expensive ones in Venice, proudly displaying international luxurious goods, which add up to the overall sophistication of Venice.
Besides, being there gives a great opportunity to go to the top of Saint Marks Basilica to be able to enjoy the view at the whole square while exploring the history of Venice. You should also visit the Bridge of Sights – once a place for the prisoners, which is nowadays a beautiful piece of architecture.
Santa Croce is slightly underrated, located relatively far from the main tourists' spots. This area offers the local – vibes and small, typically Italian cafes which serve only a morning espresso, which you drink in less than five seconds, before setting off to work. There, you can see schoolchildren playing in the narrow alleys, family – owned little arts stores and galleries (such as a cat – art gallery) and many other places enjoyed predominately by the local Italians, rather than by the tourists.