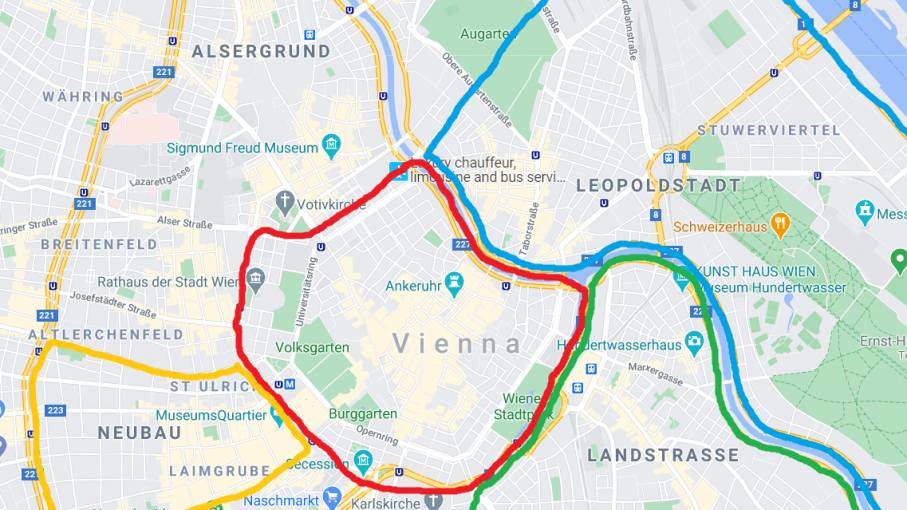 Being the birthplace of Mozart and having amazing architecture Vienna is one of the most beautiful cities in Europe. This mapee will show you what the best areas in Vienna are and where to stay.
Red area
The red area on the mapee is Vienna's city center, or the Innere Stadt. It is this part of Vienna that is a must-see when visiting the city because it contains all main attractions. As I wandered around the narrow paths between the tall buildings I was amazed by the Viennese architecture. The atmosphere in this area is magnificent as you come across buskers playing classical music and horse-drawn carriages taking you to the past. It is also a great place if you are looking to shop for high-end brands.
When it comes to accommodation this area is super expensive. If you can afford it, it is definitely worth the money since it is the heart of the city. However, if you are looking for more budget-friendly accommodation then you should avoid this area.
Blue area
The blue area of Vienna is called Leopoldsdadt. It is located on the other side of the Danube River and it used to be the Jewish part. Nowadays, it has become a cool residential area with a lot of craft-beer pubs and restaurants with different cuisines. In addition, it has got great parks if you just want to take a walk in nature.
This is a great place to look for accommodation when in Vienna. Prices may vary from very high to very affordable – you just have to keep looking for the perfect place. Being close to the city center and well connected with public tranport makes it a great area to stay in location-wise.
Green area
The green area, also known as Landstrasse, is mostly a residential area nowadays. There is nothing much to see around this area, thus it is not the best place to look for accommodation. However, there is one thing here that you must visiting – the astonishing Belvedere Palace. The Belvedere palace is my favorite part of Vienna because just walking in its gardens made me feel like royalty.
Orange area
The orange area is the Neubau district which is said to be the 'up-and-coming' part of Vienna. It is a great place to stay in if you are looking for good nightlife. As you set foot here you will immediately find lots of cool and a bit hipster pubs and bars to enjoy a good drink and have a great time.