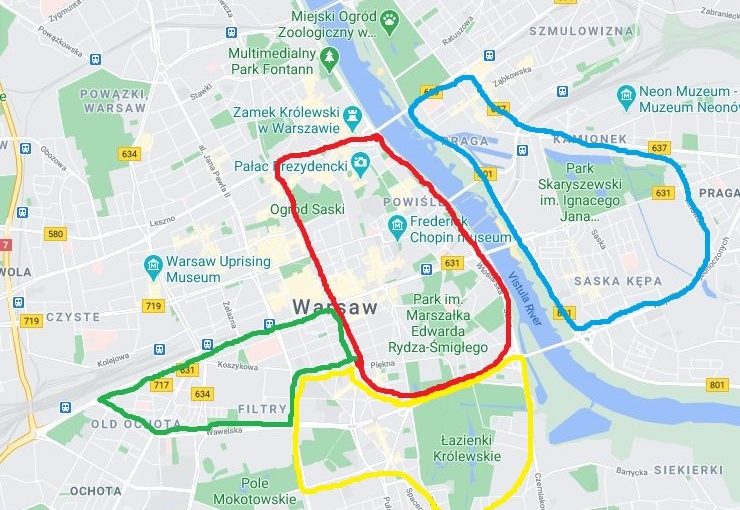 This mapee is about Warsaw and the neighborhoods that are part of it which make it such an amazing city.
Red Area:
The red area is called Śródmieście and this is the city center. This is the part where you will find lots of cafes and restaurants where you can enjoy a cup of coffee or have something to eat. What is great is that on the edge of this area along the river is the old part of the city and filled with amazing historical architecture.
Accommodation here can be found but since it is the center of the city it is a bit more expensive.
Green area:
The green area is also called Ochota. This place has also become quite modern in time where you can walk along the wide beautiful streets which are filled with trees and flowers you'll have a feeling you are not in a busy and crowded city. It is an area which is filled with restaurants from different cultures and shops and cafes that offer all kinds of opportunities.
In addition, the Ochota neighborhood is the best are to look for accommodation. Prices are not very high and the neighborhood is very calm.
Yellow area:
This area of Warsaw is also called Mokotów. It is a very calm area which has vibrant architecture with houses and buildings with different styles. One great thing you can do in this area is take a walk in the huge Królewskie Park that has wonderful landscapes and beautiful buildings.
In this area you can also find some great accommodation and you would be close both to the center to enjoy the nightlife and busy streets and some great nature where you can enjoy a long walk and just relax in the beauty that it can offer.
Blue Area:
The blue area is a part of Warsaw that is called Praga and it is considered one of the least safe neighborhoods in Warsaw. However, lately and has been becoming more popular because of the authentic style and artistic streets.
It is best to avoid staying in this area because it is still a part which is considered not the safest, but if you're on a budget you can still find some awesome places to stay at.