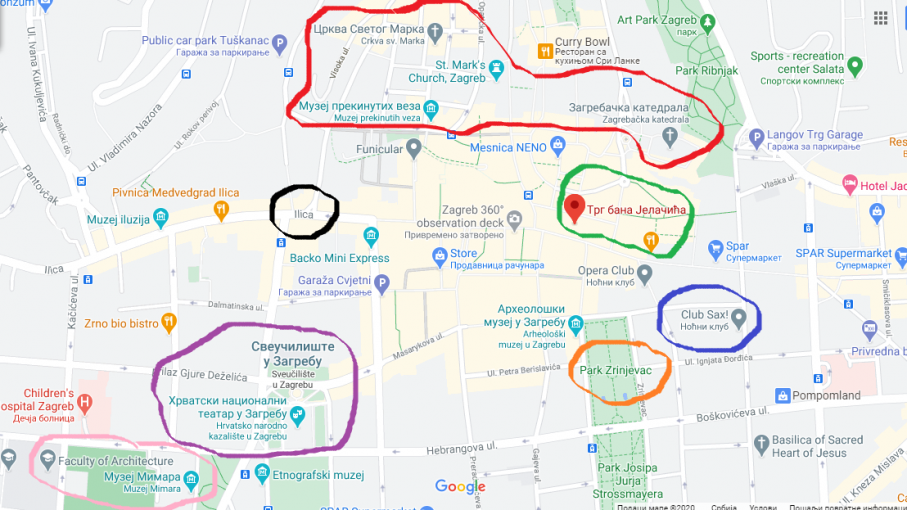 This is a map covering Zagreb, the capital of Croatia.
The red area is located in the upper town, or better to say, the old part of Zagreb. For many people from Zagreb, this Catedral is the main landmark, but also, for many tourists, the upper town is an inevitable place for visiting, which makes this neighborhood a crowded place. Giving that you can always see a lot of people here, this neighborhood is extremely safe. The prices are a bit bigger than in some more distant neighborhoods, but having a cup of coffee for example is not unaffordable. If you want to eat something, we suggest that you choose a restaurant in some other neighborhood with lower prices.
The green area represents the main city square, "Trg Bana Josipa Jelačića". Besides the people who are enjoying a casual walk here, you can see many of those who are waiting for their tram ride. Ban Josip Jelačić Square is the place where you can find a tram for any part of the city, which makes this place always busy. Regarding safety, you don't need to worry when you are here because there are always police officers there.
The orange area is for nature lovers. If you want to spend some time in nature, I suggest that you visit one of the city parks, called "Zrinjevac". It is located on the Nikola Šubić Zrinski Square. I suggest visiting this park during the daytime because, at night, you can find suspicious-looking people sitting and drinking on the benches.
The purple area is where you can see the building of the University of Zagreb and the "HNK" building- Croatian National Theatre. This part of town is much more affordable than the upper town, so if you want to grab something to eat, I suggest that you do it here.
The black area is where one of the most famous streets of Zagreb is placed, and that street is called "Ilica". This is the longest street in Zagreb, and it is full of different shops, and wonderful buildings. Zagreb is not a chip, but comparing to other European cities, it is not extremely expensive. In Ilica you can do the best shopping, no matter what you are searching for.
If you are up to some night out, we suggest visiting Night Club Sax, placed in the blue area. There, you can hear some nice jazz, rock, blues live acts. This neighborhood is extremely safe and you can go out at night, without worrying.
The pink area is reserved for art admirers. It is located on Roosevelt Square, and one of the most famous museums is placed there- the museum of Mimara. This neighborhood is full of students, giving that the Faculty of Architecture is also placed there, which makes this neighborhood safe.