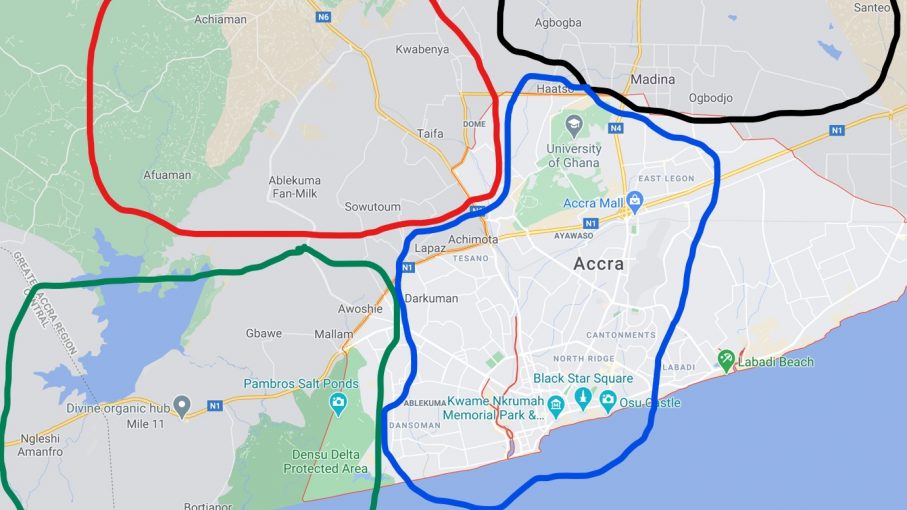 Black Region – In this region, we have Adenta and Madina being the major areas with some sub-areas like Lakeside Estate and Agbogba. Both Adenta and Madina are densely populated and has a mixture of both the affluent and the less affluent, however, it is dominated by the less affluent. The nightlife in these two areas is immense as most people can be found deep into the night going about their individual businesses. You must be wary of your security as there are some unscrupulous persons around. The transport system is mostly vehicular and it has very good accessibility as well. Lakeside Estate is a purely residential area. There is no nightlife here as many residents prefer to stay indoors even before sunset.
Red Region – This region also has the affluent and less affluent scattered in it. It has popular places like Amasaman, Kwabenya, Dome, Taifa, and Sowutuom. All these places are popular places where there is the nightlife. All these places are easily accessible with the main means of transportation being vehicular with a few tricycles and other means available. Security isn't the best especially late into the night so as a first-timer, you must be careful when in these places, especially in the night.
Green Region – Most of the areas in this region are new settlements. Places like Ngleshie Amanfrom, Bortianor, and Kokrobite are areas that are being developed so it has limited nightlife. Generally, security is all a problem as residents are normally indoors. Accessing these areas is a bit difficult as most commercial vehicles don't ply that route frequently. For places like Mallam and Gbawe, there is some sort of nightlife. People can be seen even late into the night. Security is also a general problem here as thieves tend to attack people, especially at night. Commuting is mostly vehicular and these commercial vehicles are also accessible.
Blue Region – The blue region has undoubtedly the best life among the regions. It has most of the attractive places in the country – the University of Ghana, the Kwame Nkrumah Memorial Park, the Black Star Square, and the Osu Castle. Their nightlife in most of the areas in this region as living in places like Osu, Lapaz, and Achimota will expose you to an immense array of nightlife. The region has East Legon, one of the plush areas in the country dominated by the rich. The security in the region is someway good as there are several police stations situated across the region. Commuting is also vehicular with good accessibility.