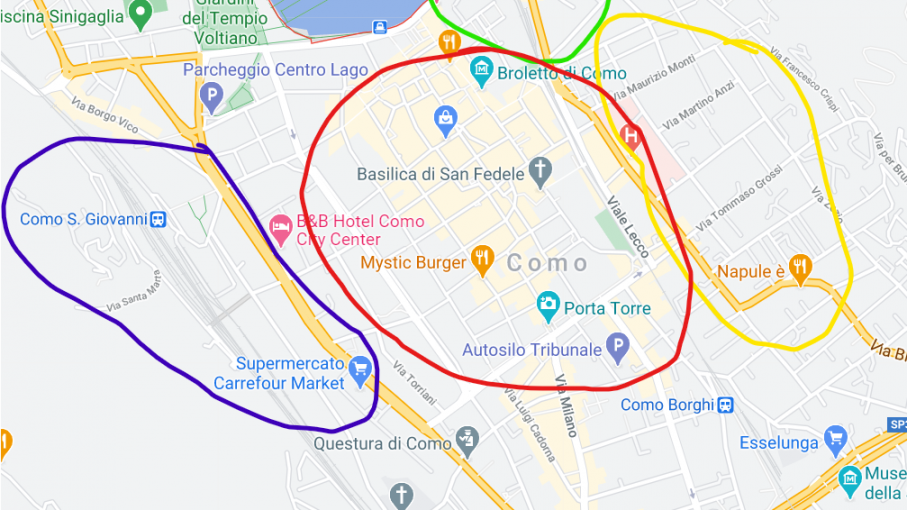 Red area
Como has a nice historic centre, full shops where you can buy anything you might need. This area is full of schools and students, so prices of everything will be more than affordable, and of course the area is perfectly safe during the day. You'll find dress shops, even a supermarket not too far from the lake, which might be useful if you're staying in an apartment.
You will be able to enter the historic centre by passing through Porta Torre, or you may enter from outside the cathedral's square. In both cases, if you're by car you can park it just outside, there are plenty of options to park, some of them are free. Unfortunately, the parking spots you'll have to pay will be kind of expensive.
There are some hotels all around this area, even some B&B. Some of the prices are more than affordable, but not all. In fact, you might want to look for accommodation somewhere else, even outside Como, if not in the outskirts.
Yellow area
This is definitely a residential area. There is not much here, but you will reach the city centre within minutes, as well as the train station. It is perfectly safe during the day, maybe just be a little more careful at night. There are even some options for accommodation, but not that many.
Green area
This is the area connecting Como to many other cities and towns. For instance, you may catch a train and go as far as Milan in one hour. Otherwise, there is a bus station which will bring you, for example, to Lecco, which I really enjoyed, even though I've been there just once or twice.
There are also many towns between Como and Milan, or Como and Lecco, all reachable by train or by bus. If you want to find a place to stay at an affordable price, it will be much easier if you search in the little towns outside Como.
Blue area
I mention this area because of Como San Giovanni train station, which will bring you as far as Milan, as well as a couple of bus stops, and because you will find even more parking options, some of them free. It is a bit further from the city centre, but not excessively.