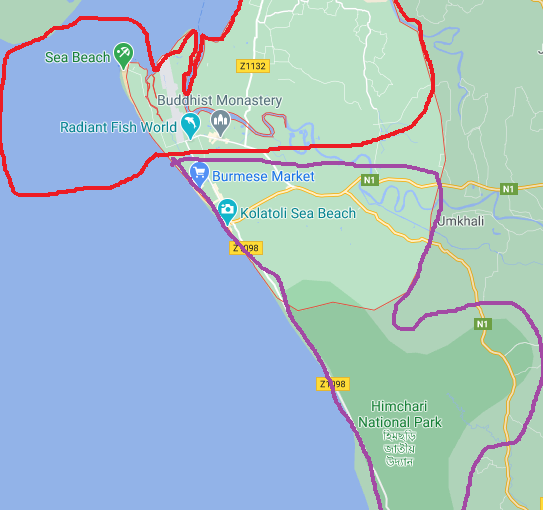 Red Area 
Cox's Bazaar is to the south of Bangladesh. It is known for the longest natural sea beach in the world.  The beach is around 120 km long. If you drive along the newly constructed road to Teknaf, you will realize what a great gift nature has offered to this part of the world. You will see the vast expanse of the sea on the right and greeneries on your left. At every point, the beach slopes gently down to the blue waters of the Bay of Bengal.
Cox's Bazaar is about 400 km away from Dhaka. You can reach there by road and air. Tourists from home and abroad throng here to see the sparkling beauty of the sea. They get a lot of fun to see the giant waves crashing against the shore with loud but rhythmic noise. They can also enjoy the colorful twilight as the sun slides down in the sea horizon. People can opt for surfing too. There are several hotels adjacent to the beach. During your travel, enjoy delicious Bengali cuisines in addition to mouthwatering seafood.
Cox's Bazaar has drawn global attention for sheltering over one million Rohingya refugees from Myanmar. As a result, different NGOs are working in refugee camps to support them.
Another attraction is Aggmeda Khyang Monastery. It is a Buddhist Monastery with a big assembly hall, a prayer chamber, and collections of manuscripts.
Purple Area
The Purple circle covers Burmese Market, where you can buy all the unique products from seashell to handmade jewelry.  You can also purchase sea fish and dried fish.
 Himchari has gorgeous waterfalls and hilltop overlooking the beach. It is situated around 8 kilometers south of Cox's Bazaar. Tourists usually take a taxi or a private ride to reach the destination with beautiful scenery on the way. Himchari is less packed than the main beach. So, visitors go there for relaxation. It is a picnic spot too.
Blue Area
The Blue area includes Teknaf, which is the southernmost part of Bangladesh. Teknaf is 80 km away from Cox's Bazar. Myanmar is on the other side of the river Naaf. You can have a river cruise here. Tourists enjoy it because they are enchanted to see the high hills on both the sides of the river and they are all covered with dark green forests. The reflection of the green trees on the water of the river is mesmerizing. There are many Arakanese Maghs in this place. Wild animals and birds are also seen in this area. You can find comfortable forest bungalows on the hilltops.
Saint Martin is another spot visited by tourists. It is a coral island situated about 25 km away from Teknaf. Saint Martin can be reached by luxury ships and engine boats from Teknaf. It is named after a British Governor Mr. Martin. Locals call it 'Narikel Jingira' which means Coconut Island.