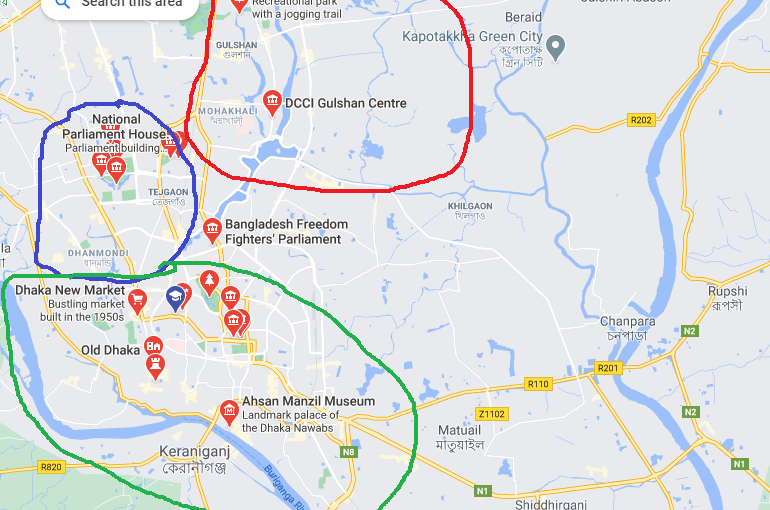 Red Area
One of the most developed and rich neighborhoods of Dhaka is Gulshan. Due to its location near the International Airport, tourists find it a convenient place to stay and roam around safely. Gulshan also has a diplomatic enclave, which houses a good number of embassies and high commissions. However, it has not lost its residential charm. You can still see bungalows and educational institutions and hospitals, all in one place. For the entertainment of tourists and residents, there are clubs, cafes, restaurants and malls. Baskin-Robbins, Movenpick, Gloria Jeans Coffees, Levi's, Nike, Gucci, Reebok, and many other international outlets of such profiles have made this area a favorite place for tourists.
Blue Area
Moving along the map, the next circle covers the National Parliament Building and Dhanmondi residential area. The National Parliament Building is a major landmark of Bangladesh. Louis I. Kahn designed this modern building. The entire complex is divided into 3 sections, namely the Main Plaza, the South Plaza and the Presidential Plaza. On the North of the Complex lies a splendid lake named Crescent Lake, overlooking the Chandrima Uddyan which means a garden.
Like Gulshan, Dhanmondi is a place of natural beauty amid the crowded blocks of high-rise buildings. In Dhanmondi, apart from a beautiful lake, there is a museum dedicated to Bangabandhu Sheikh Mujibur Rahman, the founder of the nation. Dhanmondi is a hub of culture and art. Drik Gallery, Bengal Shilpaloy and Chitrak are attractions for the art enthusiasts. Moreover, Edward Kennedy Center (EMK), Alliance Françoise and Goethe Institute are located in Dhanmondi.
Green Area
The circle in green covers the old town, aka Old Dhaka. In this area, tourists can see the significant landmarks of Mughal architecture. The Lalbagh Fort and the Ahsan Manzil are the most notable. You can also try out the local and traditional cuisines in the restaurants around. If you like shopping in an open market, you can visit the Dhaka New Market.
Very close to it is Nilkhet. Here you will notice a large cluster of bookstalls. They have a rich stock of books. The University of Dhaka is nearby. It is one of the prime universities of Bangladesh. It has an area of 600 acres with lush green surroundings. You can go to the National Museum, Curzon Hall, Faculty of Fine Arts and Shilpakala Academy. They are all worth visiting.