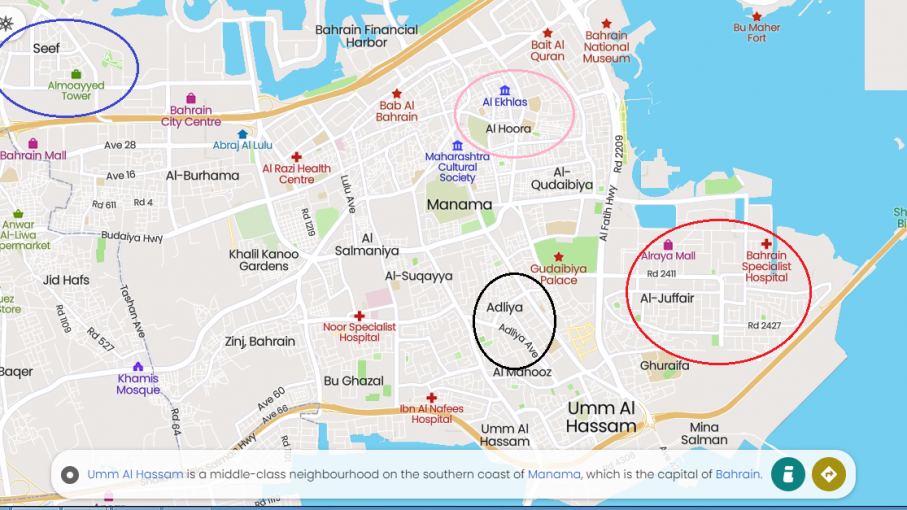 Black Area shows Adliya. In the heart of Manama, there is a relaxed district named Adliya which is well known for art exhibitions and cultural events. This is a famous neighborhood of Manama because this area is entertainment hub for the whole kingdom. There are various international fine dining restaurants. Adliya is located near to many important locations in the kingdom of Bahrain, including Royal Palace, Al Qudaiybya Palace, Al Fateh Grand Mosque and Bahrain National Museum and Theaterswhich host several annual art exhibitions, festivals, and concerts. Adliya also has various hotels that from 3 star to 4 star i.e. Ramada Hotel Bahrain, Bahrain Carlton Hotel, Sea Shell Hotel, Andalus Plaza Hotel, and Gulf Hotel Bahrain.
Red Area shows Al-Juffair. Al-Juffair is one of the most vibrant areas of Bahrain. This area houses expats that are mostly young citizens. Due to its lively population, there is always an ongoing hustle and outdoor activities in this area. Thus, industries like restaurants, hotels. Hospitality and retails bloom in Al-Juffair. This place is a home to several luxurious hotels, international retail outlets and restaurants. Al Shabab Avenue near American Base Navy, a street which is loaded with different international and local restaurants on both the sides and Al-Juffair Mall, the most renowned shopping attraction in the area.
Pink Area shows Hoora. This area is considered to be the night-life centers of Manama, as it houses several pubs, bars, restaurants, hotels and night clubs (both Arabian and Western). This area is popular among tourists from Saudi Arabia. The Exhibition Avenue in Hoora is the busiest avenue with various locals, foreigners and visitors.
Blue Area shows Seef. This area is man-made reef island which is surrounded by sea form three sides. It has office blocks, multiple luxurious hotels, apartments and restaurants, bars and night clubs. Seef area is considered to be the posh areas of Bahrain. It has a water park which is must visit location in Bahrain. The most popular hospitality attraction is Ritz Carlton Bahrain which has its own private Island and lagoon. Also, this area has Jumeirah Royal Saray Bahrainresort and other hotels like Fraser Suites Seef Bahrain, which provides its visitors quick access to Seef Mall and to the four-star Swiss-bel Hotel Seef.