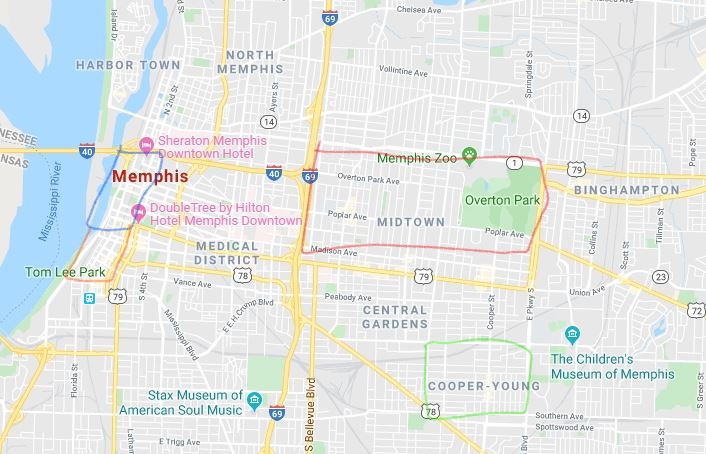 This mapee is about parts of Memphis, Tennessee.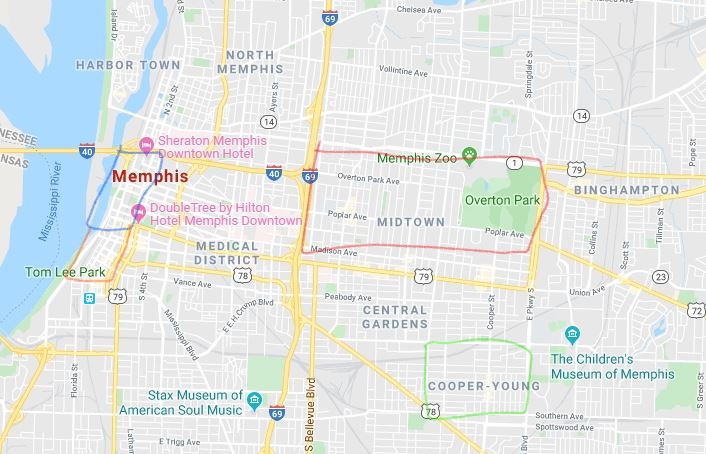 Downtown Memphis (Blue Area):
By day, downtown Memphis is full of the business types that typically fill the office buildings in a central business district. At night, however, downtown can turn into a big party.  There are plenty of bars and restaurants and lots of nightlife and attractions all within an easy walk of each other.  Public transportation isn't great, but there is a vintage trolley line that can take you to the South Main neighborhood for cheap.  Electric scooters (Bird, Bolt, Spin, etc.) are easy to find downtown and are a cheap and convenient way to get around.  Sports fans might enjoy the Memphis Redbirds, Memphis 901FC or the city's NBA team, the Memphis Grizzlies, all located downtown.  Tourists gravitate to iconic Beale Street which is worth doing for first timers to the city. Downtown is a good option for people wanting a more urban feel, easy access to sites, and lots of choices for drinking and dining. Accommodation options are generally higher priced downtown than other areas of the city.
Midtown (Red Area):
Centrally located, Midtown is a convenient spot to stay if you plan on visiting different parts of Memphis.  While public transportation options aren't great, Uber and Lyft are easy to catch and relatively cheap to most places around town. You'll find a good mix of historic neighborhoods (Central Gardens, Evergreen), local bars, restaurants, and entertainment venues (Overton Square, Crosstown) and old-school attractions (Overton Park and the Memphis Zoo).  Midtown has a youngish vibe as it's home to Rhodes College, the Memphis College of Art, and Christian Brothers University.  There is a wide variety of lodging options in midtown at reasonable prices.
Cooper Young (Green Area):
This one Memphis' oldest midtown neighborhoods and where the locals go to hang out.  Can feel a bit rough around the edges, but generally safe with a handful of local eating and drinking options. Easy to access from Midtown or Downtown via Uber/Lyft or with a car. Newly installed bike paths make it easy for bikers as well. Not a whole lot of accommodation options apart from AirBnB types of rentals.  But these are generally cheaper than Midtown or Downtown.
South Main (Orange Area):
Just south of Downtown, South Main is quickly being re-developed as a sort of arts district.  It's easily accessible from Downtown via trolley or electric scooter.  There are a handful of good bars and restaurants and a few sites such as the National Civil Rights Museum and the Blues Hall of Fame worth seeing.  Generally safe, although can feel a bit empty on weeknights. South Main is a good option for those who prefer a lower-key area on with easy access to bars and nightlife of Downtown.