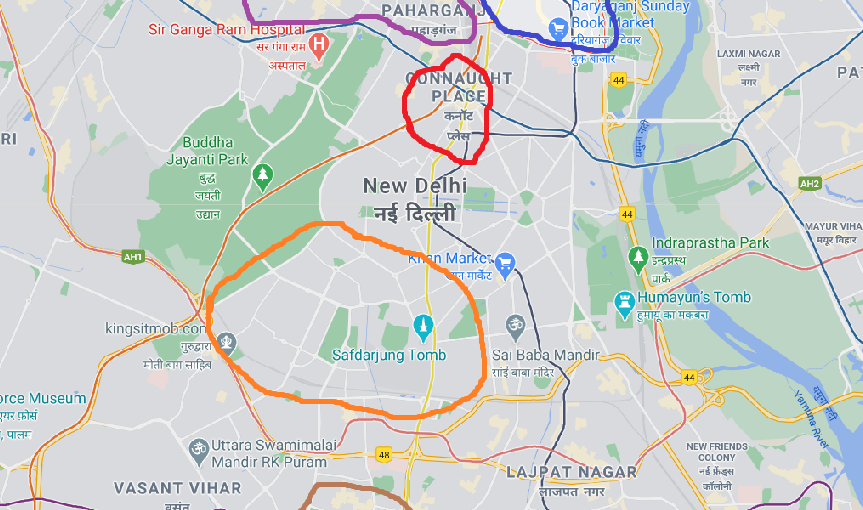 This mapee takes you closer to the capital of India, New Delhi. Although Delhi is peppered with things to do and see almost everywhere, here is a list of the best neighborhoods to stay in the central New Delhi as most of the action is packed there itself.
Red Area:
The red area is the Connaught Place, also the heart of the city. Located in the city center, it is a hub for clubs, cafés, restaurants, cinema halls, and whatnot. And shop till you drop here. Also, it is not far away from some important heritage sites.
Such, centrally located, the average accommodation price is relatively high in this area.
Orange Area:
The orange area is the Chanakyapuri/Lutyens' and Lodhi Colony. Both are the poshest locations of Delhi. Centrally located as well as tranquil, green, and with umpteen open spaces, they are the best to experience the exotic Delhi.
Accommodation costs again are at the higher end, and you have a museum, many gardens, and cafés to explore. Also, this area is the proud location of India's very first open public art district.
Brown Area:
The brown area marks the Hauz Khas. Hauz Khas aces both the sides of the coin. The colony has a crazy party scene, cafés, and other fancy stuff, as well as the old world charm of a 13th-century ruin. The ruin still is in quite a good shape and has a mosque, school, tomb, and a beautiful royal water tank.
Accommodation is moderately priced and quite comfortable.
Purple Area:
The purple area belongs to the Paharganj and Karol Bagh colonies. Both the places are very affordable. Though the streets are crammed and busy, these streets of Karol Bagh offer almost anything under the Sun plus many accommodation options.
The area of Paharganj is always super busy and offers a myriad of accommodation options for travelers, all super affordable. The fancy hanging banners of hotels are a sight to watch at night.
Blue Area:
The blue area covers the Old Delhi. The central entity and attraction of it being the Chandni Chowk or the Moonlit Square. Chandni Chowk is a vast market of dedicated lanes to every business on Earth. It is a labyrinth of narrow streets. Accommodations are not many, but the area is worth a visit.