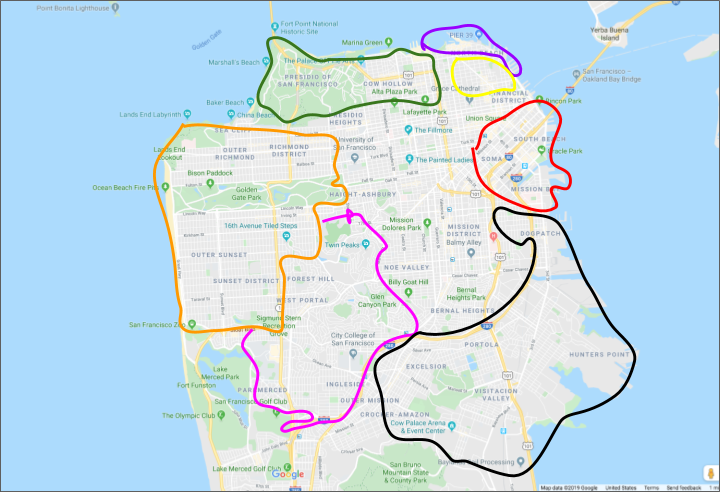 This is a mapee of the San Francisco, California area.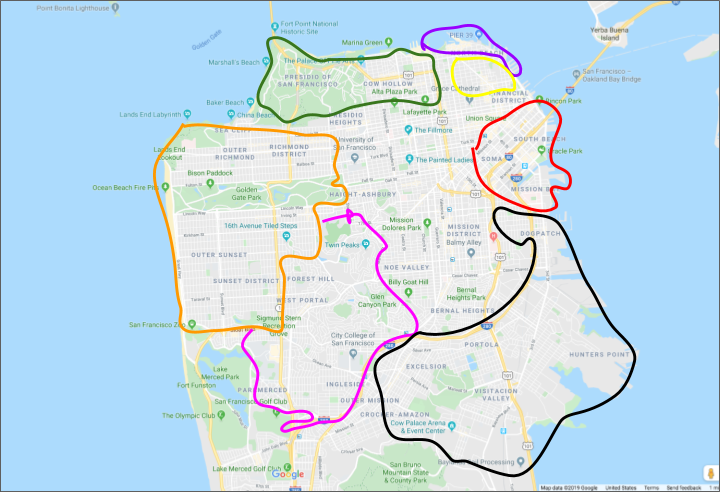 Being one of the United States' most well-known places and having a population of almost 900,000, there is plenty to do in "The City." However, you may be a tourist or a visitor and want to know at least a little bit about the city before journeying out here

Golden Gate Area (Green)
Do you like the scenery? Are you someone who specifically traveled to the Bay Area for the Golden Gate Bridge? Well, no need to panic because this area of San Francisco got you covered! Besides posting a picture of yourself at the nation's most prized monuments, there are other places worth your time also. I'm talking about Fort Mason, Presidio, and some upscale communities with some of the best Victorian Architecture around.
Fisherman's Wharf (Purple)
The best place to hang out with your fellow travelers and have direct access to Alcatraz Island is the Fisherman's Wharf. This place is excellent if you want to see and learn about the city, grab a few souvenirs, and find entertaining street performers. A true tourist delight.
Chinatown-North Beach (Yellow)
Why go to China when you access it here in San Fran? No seriously, the Chinatown region of San Francisco is an exact replica with many places that offer Chinese cuisine, souvenirs, and culture. If you are looking for something more familiar, then I suggest you hit up the North Beach. Here you will find some of the best authentic Italian experiences.
SoMa (Red)
If you want to welcome in the future of San Francisco then look no place else than the SoMa, (south of Market) district. This is a fast-changing community that is seeing the most reconstruction like the new Warriors stadium that is planning to be placed there and many more! It should be a trendy place a few years from now.
The Avenues (Orange)
Like the Golden Gate Area, the Avenues offers many popular destinations you have to see to believe. One area you got to check out is the Golden Gate Park, which might be as big as Central Park in New York and Ocean Beach. Also, if you love fog, this location is ideal.
Twin Peaks/Lake Merced (Pink)
This is predominantly the hilly area that has mostly been associated with San Francisco. Every time you get a postcard of the hills overlooking the ocean, think of Twin Peaks. The best attraction if your bringing the kiddos would be the San Francisco Zoo, which I have heard has the most extensive collection of animals from Africa in the state.
Southeast Region (Black)
Purely a residential community, the southeast region of the city is full of libraries and popular restaurants like the Old Clam House and the Hard Knox Cafe. However, it might be best to avoid this area if you are a tourist due to the higher amount of crime, and not so great lodging. If you want to stay in the south Francisco region, I suggest hitting up Daly City, which is a very short drive south.