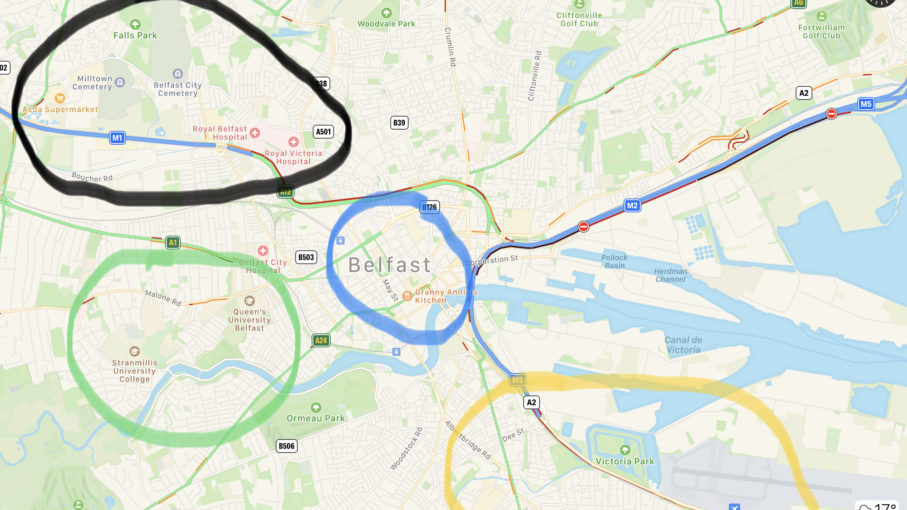 Blue Area:
This is the main tourist area in Belfast, which has a relatively small city-centre. There is public bus service that runs throughout the city, but the city centre is extremely pedestrian friendly and there are a high number of taxi areas as well. The city centre is the main shopping area and includes two large shopping complexes, one of which is considered to be more high end, and are connected by several streets of mid-range shops. This is where the majority of hotels are situated, ranging from 5* hotels to various more budget friendly options that are about £40/night.
If you're looking for somewhere to spend a sunny day, the City Hall regularly holds events outside and there is a large green area for public use. This is also where the majority of the nightclubs, bars and theatres are located.
Yellow Area:
This area includes the nearest airport, the George Best Airport, which is primarily domestic UK flights. It's about a ten minute drive from the city centre and there are regular buses and a taxi rank to take you into the city centre.
While most of this area is residential, it also includes the original Harland & Wolff shipyard where the Titanic was built. The main tourist attraction in this area is the Titanic Quarters, as well as W5, a science based centre. The hotels in this area are typically more budget-friendly than in the city centre, and either walking distance or a short taxi into town.
Black Area:
This is where the major hospitals are located, and is a mixed of residential and industrial areas. While it is not usually a tourist area, it is a popular location for outdoor concerts and festivals during the summer season. This area also includes Windsor Park, the stadium for Northern Ireland's football team. This would be ideal for a long-term stay to save money, but is not seen as a tourist area, and there are a limited number of hotels in the area.
Green Area:
This includes the main student areas in the city, where two of the main three universities campuses are situated. It is primarily residential but would be ideal if you were looking for a less expensive accommodation, such as an Airbnb. It includes the 'Holyland' area, which is very student heavy and a more dated area with mainly terrace houses.