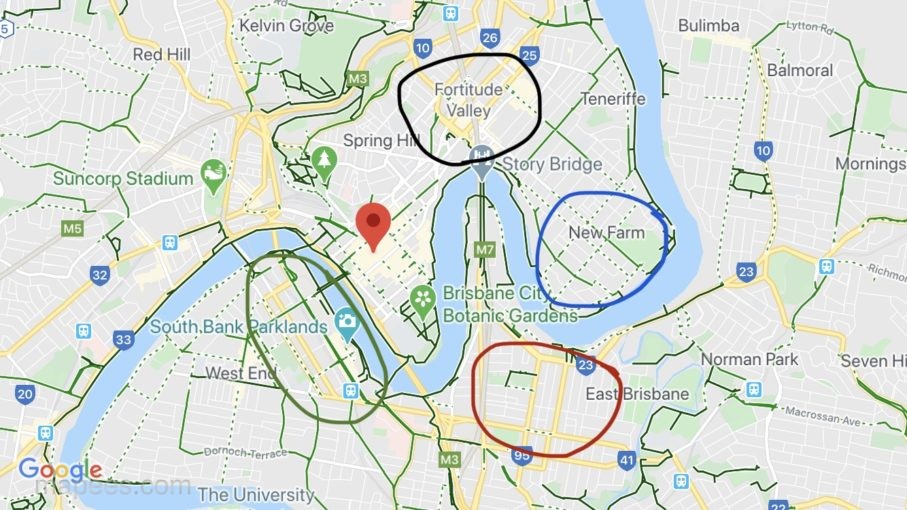 South bank (green): Easily the best area in the city for basking in the sun and unwinding. South bank is popular for both travelers and residents as it is the cultural heart of Brisbane. Be sure to swim in the man-made South Bank beach, have a picnic in the Parklands, stroll along the river, and enjoy a ride on the Brisbane Wheel. To visit other parts of the city you can either walk the easy distance or buy a Translink Go Card.
New Farm (blue): A leafy residential neighborhood, but a great spot for travelers as well. You can see a beautiful view of the Story Bridge from the Wilson Outlook Reserve (it is especially nice at night because the bridge is lit with fluorescent colors). New Farm has some of the cheapest accommodations and works well for those who want to relax in peace and quiet. Though, it is not very close to the main attractions and would require long walks or public transport. I recommend traveling around on the ferries, they are fun journeys and quickly get you to where you want to go.
Fortitude Valley (black): This area is known for its cute alleyways, Chinatown, shopping, and rooftop bars. Don't miss window shopping along James street, exploring the local street art, and playing arcade games at Netherworld. Fortitude Valley is popular at night offering options from mellow live music to raving dance clubs to cocktail lounges. Regardless of what you're in the mood for, you will be guaranteed an exciting, unforgettable evening.
Woolloongabba or Kangaroo Point (red): Popular for its gorgeous views of the city and laid-back vibes. It is also a big hit for those who enjoy sports. You can abseil from the top of Kangaroo Point Cliffs or kayak along the Brisbane River. After all the sporty activities you can relax at one of the suburbs bars for live music or check out a roof-top bar for a fantastic sunset. Affordable accommodation ranges depending on if you prefer hotels, hostels, or Airbnb.