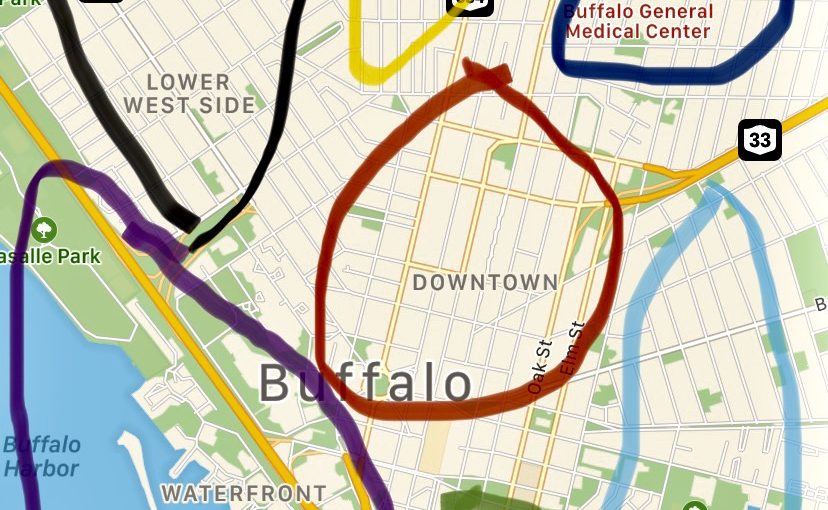 Purple – Canalside/Hockey Arena
The purple area is probably the most tourist area of Buffalo. A lot of fun things to do in the area like ice skating, swimming, canoeing, food, and concerts. Not to mention the Buffalo Sabres arena and helium comedy club are right nearby. The bars near the Buffalo Sabres arena are to die for. Note that a lot of the places in the area are always crowded and are typically a bit pricey.
Yellow – Elmwood village/Allentown
The yellow area is the most artsy area of Buffalo. You'll find everything from art galleries, clothing stores, comic shops, bookstores, bars, and amazing restaurants in the area. Surprisingly, the nightlife in this area is incredible. A lot of the bars are open until 4am, and sometimes there's food trucks in the area.
Black – West Side
The black area is a very urban and gentrified part of town. There's a lot of great local restaurants, bookstores, and shops around this area. Fun place once you get to know the area better. Has a few colleges in the area as well. Must-see if you're looking to save a few bucks on lunch or dinner.
Red – Downtown
The red area is where you'll find a lot of different types of office buildings. If you look hard enough, you'll find a bunch of bars, coffee shops, and bars. Cool area to explore if you're interested in the downtown lifestyle.
Green – Baseball Arena/Sports Bars
The green area is filled with sports bars and the Buffalo Bison's stadium. It's a great place to hang out for sporting events. Not to mention a lot of the bars in this area are cheap.
Dark blue – Hospital/Housing
The dark blue area is mostly housing besides the hospital. Not much to see here unless you have an emergency that requires hospital attention.
Light blue – Larkinville
The light blue area has a lot of housing, bars, and restaurants. During the summertime you can find a lot of food trucks every Tuesday night in the area. It's a surprisingly fun area that is emerging with more and more restaurants.