This mapee covers most of Manhattan, NYC.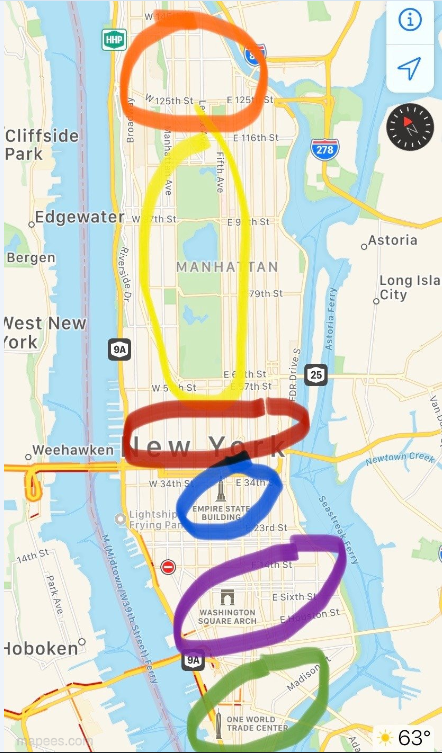 Orange – The orange area is part of Harlem. Harlem use to be known as one of the most dangerous neighborhoods of any city, but over the years it has become one of the best ethnically diverse neighborhoods for music and art. Of course, there are still some shady parts of Harlem, but if you can do some research about "must-sees of Harlem" you'll be surprised with how many interesting museums, restaurants, art galleries, and music clubs you can find in Harlem.
Yellow – The yellow area is Central Park. Central Park is a must-see for any tourist. It is absolutely beautiful and stunning to see in person. It's crazy to think that the beauty of Central Park is in the middle of a hectic city like New York City. There are countless things to do in Central Park like the Central Park Zoo, Strawberry Fields, Wollman Rink, Museums etc. I highly recommend Central Park to anyone who hasn't gone to New York City before.
Red – The red area is a heavy tourist spot of New York City. You can find Times Square, Broadway, and more all in a few streets. Just know that this is one of the most crowded and hectic areas of New York City. If it's your first time going to Times Square, then definitely check it out just to say you did it, but if you've seen it already then try exploring other hidden gems of the area like the Museum of Modern Art or Broadway. Besides all of the pizza places, the restaurants in this area tend to be overpriced, so you might want to consider going to other parts of town for cheap eats.
Blue – The blue area is another hectic part of New York City around the Empire State Building. The Empire State building is quite amazing to see in person, and is always great to visit whenever you're in New York City.
Purple – The purple area is a heavy college part of town. You can find artsy areas like Greenwich Village here, which is a must see for any musician or artist. Around the colleges, you can find a lot of shops and restaurants that are around the cheaper side since they're near universities. It's an interesting area of the city that is pretty unique compared to the more hectic areas like Times Square.
Green – The green area revolves around the Freedom Tower and the 9/11 memorial. It's a beautiful area, and it's quite remarkable what they've done with the 9/11 memorial. The Freedom Tower is amazing to see in person, and the 9/11 memorial will make anyone feel a little bit emotional. You'll find a lot of high-end restaurants near the area since it's a high tourist area, so keep that in mind. However, nearby is little Italy and Chinatown which is a great place to find some cheaper eats.