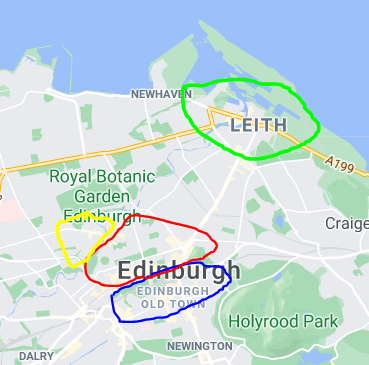 Blue Zone – The "Old Town" neighbourhood of Edinburgh is the oldest part of the city, lined with centuries-old buildings and rich in historical value. The crown jewel of the Old Town is Edinburgh Castle, situated right at the top of the rocky crag. During the summer the town comes to life with music and performers, and it's an amazing experience strolling through the narrow alleys and passing by well-preserved ancient buildings.
Red Zone – The "New Town" neighbourhood of Edinburgh is busy and trendy, with a range of options for shopping and dining in beautiful restaurants. With its large squares and huge Princes Street Gardens, the New Town is beautiful and upbeat, but also has a historical feeling. Being a large commercial district, the New Town is very accessible and public transport is very frequent. When you stay in the New Town, chain shops and department stores are never too far away and you should also remember to drop by the National Gallery of Scotland. If you're into musicals, you'll be glad to know that the Edinburgh Playhouse plays host to a wide selection of touring musicals, so check your travel dates and try to book a seat!
Yellow Zone – The Stockbridge neighbourhood is shaped by its rich Victorian and Georgian architecture, and overall Bohemian feel. The neighbourhood is frequented less by tourists and the Royal Botanic Gardens offer a calm way to escape the hustle and bustle of the city centre, so if you're looking for a relaxing location to stay on your travels, the Stockbridge neighbourhood is probably for you. Public transport is accessible but if you're wanting to stay around the city centre or visit some of the larger attractions and shops characteristic of Birmingham, perhaps you'll want to choose a closer neighbourhood.
Green Zone – If you're looking for a progressive and innovative dining area near the water, Leith is your ideal neighbourhood in Edinburgh. The port district is popular for its cafes, galleries and maritime attractions. Leith Market is perfect for its local culture and antique shopping, and events big and small are very regular. It is also calmer and more laid back than the Old Town and New Town. If you choose to stay here on your travels, be sure to visit the Royal Yacht Britannica, which was a royal residence for four decades.