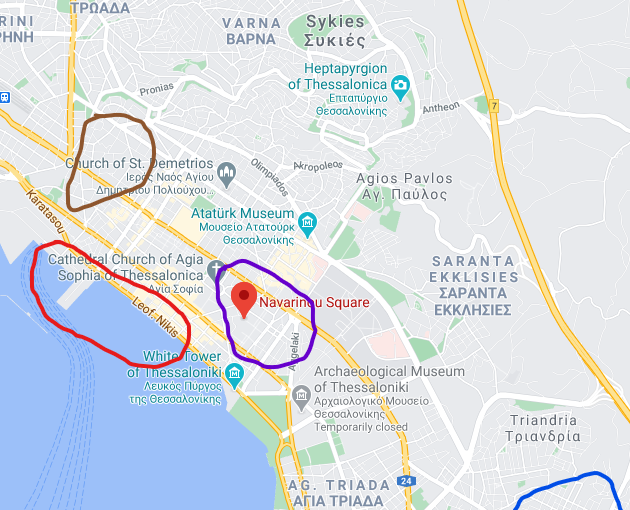 Red Zone (Ladadika)
Ladadika is a place full of history, just as Thessaloniki itself. It is very old but also settled. When I first visited this place, I knew I would come a million times over. It has this nice, vintage vibes and I think that is an absolute place for everybody. You can rent a cheap apartment and explore the whole city because it's not far away. This is specific for the whole city, but traffic is terrible and parking almost does not exist. That only, but a big problem.
Blue zone (Ano Poli (Upper Town))
Very similar to Ladadika is one of the oldest neighborhoods of Thessaloniki. The beautiful vintage houses and style of life will get you if you are like me. I would not recommend to people who like urban, fast holidays. It strictly for relaxation and spending your time in peace. I enjoyed watching the sunsets and the sea. On the other hand, for tourist who likes to see and explore, it offers you a lot of monasteries and churches. I visited most of them, and they are marvelous!
Brown zone (Valaoritou)
This area developed into an ideal place for young people who wants to have fun. It has a lot of cafes and of course nightclubs. It was famous for very good stores, now it changed to the perfect place for people who want to party and dance all night. In the daytime, you can chill in some of the cafes with great views and it also offers you a variety of music and exploring architectural gems. You should be careful while you are at some nightclubs, and of course, do not be alone late at night. Traffic is terrifying here, so be aware of that as well.
Purple zone (Navarinou Square)
If you are searching for a student's area, just like I did, Navarinou will not disappoint you. It is a very calm area, with a lot of opportunities to relax. You can find very cheap apartments and flats, also cafes with good space to study and prepare for university. I loved studying in Thessaloniki and this neighborhood made me explore the whole city more! I would recommend this area to every student, it's great!