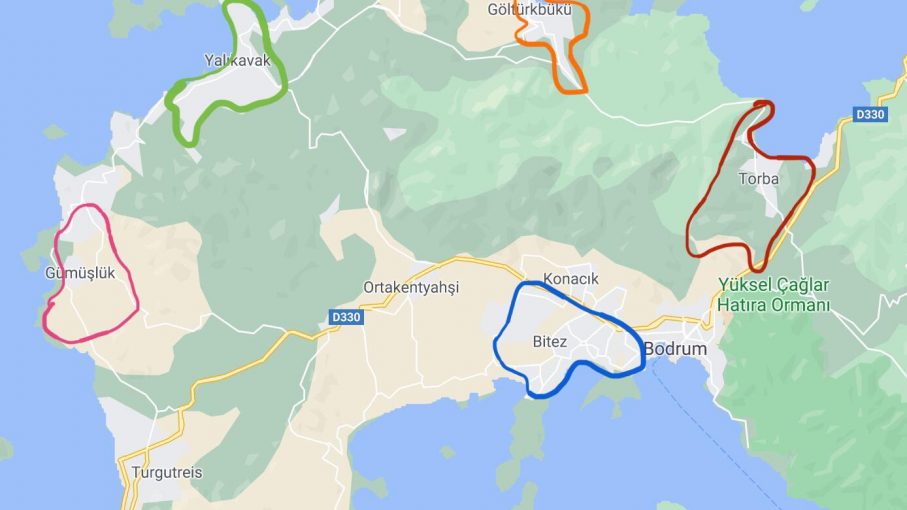 Located in Mugla, Turkey, Bodrum is a great and safe city for your summer vacation. Since it is a big city with various neighborhoods spread around, it will be best if you rent a car so that you can visit all of them easily. If you don't, there are round trip bus and minibus services to each neighborhood from the airport and city center, but taxi would cost a fortune! This mapee covers most popular districts in Bodrum.
Torba (Red Area)
Torba is a peaceful neighborhood with convenient accommodation prices. It is located near a forest area that is rare for Bodrum, so you get a sense of its nature next to the clear sea. Great choice for a calm vacation, swimming and outdoor sports such as trekking and cycling. Great for a couple vacation.
Bitez (Blue Area)
Bitez has one of the best bays of Bodrum and is famous for beautiful beaches ideal for surfing. You can windsurf, canoe and do other water sports in Bitez. The sea here is sandy, warm and shallow. So, the beaches can sometimes get very crowded with families and kids. Great for a family vacation.
Gumusluk (Pink Area)
Gumusluk is often described as heaven by the natives, making it ideal for a calm holiday with loved ones. Having its own pier, great choice for daily boat tours. It has more affordable accommodation options at boutique hotels. If you want to try raki (a famous Turkish alcoholic beverage), try it at a fish restaurant in Gumusluk by the pier.
Turkbuku (Orange Area)
Turkbuku has the best nightlife in Bodrum, but it is becoming more touristy and expensive every year. Ideal for friend groups who want to party. I would not recommend staying at a hotel in this neighborhood, but you should go there to swim during the day and to party at night.
Yalikavak (Green Area)
Yalikavak has a windy, wavy sea that is not ideal for swimming. Great for beach clubs and nightclubs, but very pricey so beware! There are happy hours at beach clubs every day and crazy parties with resident DJs every night. Yalikavak is also the place for watching the sunset at Kavanoz restaurant. Go there around 7 PM for the perfect golden hour photo.