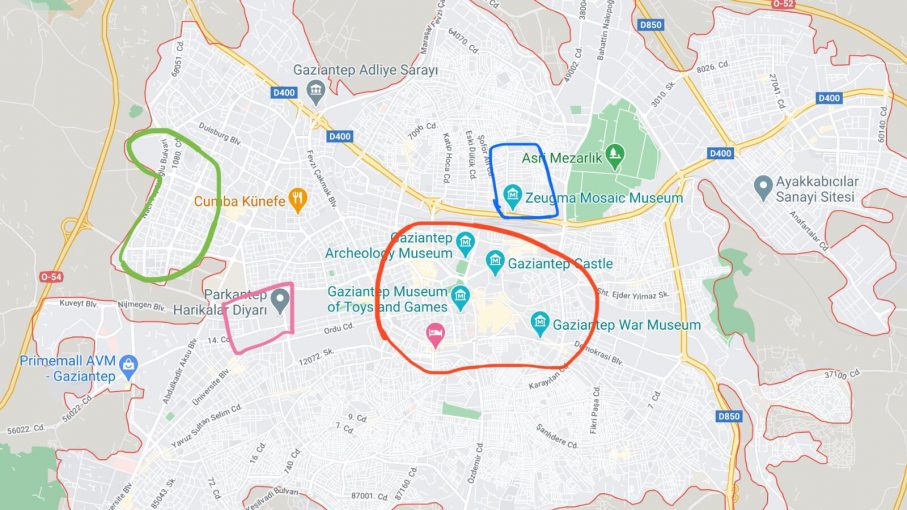 Gaziantep (also known as Antep) is a city in Southeastern Turkey. All of its attractions are located in central, so this mapee will mostly cover central Gaziantep. Best to visit in May or October due to its hot weather. It is recommended to rent a car from Gaziantep Airport. There are bus and minibus options in city center as well. You should get yourself a travel card called Kart 27 to take the public transport.
Central Gaziantep (Red Area)
Central Gaziantep is safe and full of attractions. You should definitely stay at a well-known hotel like Grand Hotel here, because although Gaziantep is a very attractive city, its known for its high crime rates outside of central. Grand Hotel also offers a nice restaurant at its terrace, which is a very popular spot for tourists. The city center is a walkable and safe neighborhood full of tourists. There are many places to visit, including Coppersmith Bazaar and Gaziantep Castle. On top of the castle, you can view the city from above and visit the castle's small museum afterwards. Full of traditional restaurants and historical museums.
Karsikaya (Blue Area)
Little outside of central, Karsiyaka also offers some really nice restaurants and museums. It is a safe neighborhood because it's still touristic. You can stay at Double Tree by Hilton or Divan Hotel, both of which are very close to this area. If you're a fan of kebab, you should visit Halil Usta which is the most famous kebab place in Gaziantep. Zeugma Museum is also located close to this neighborhood. The stairways are made from glass in this museum so that visitors can see all works of art. You can arrive here by car or via daily tours. Don't forget to by a pack of baklava outside the museum.
Ibrahimli (Green Area)
This area is not safe to stay or walk at night, but it offers some traditional steakhouse restaurants you can go during the day. Mostly a residential area with not much to see. Wouldn't really recommend as it's not a touristic spot.
Parkantep (Pink Area)
This neighborhood gets its name from an amusement park there. Great for families with kids to visit the park during the day. Not safe to stay.