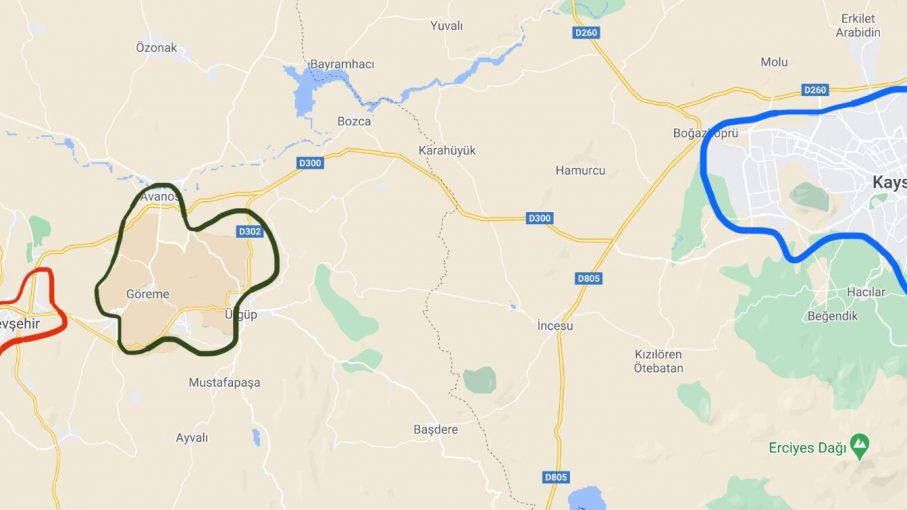 Cappadocia (Green Area) is the Grand Canyon of Turkey with its one of a kind landscape. You can take a flight from Istanbul to either Kayseri (Blue Area) or Nevsehir (Red Area) and rent a car or take the bus from there to Cappadocia. Once you arrive to Cappadocia, you can either drive or take a minibus and/or taxi. So, you'll have many transportation options. Goreme, Urgup and Uchisar are very close to one another, which will make it convenient and cheap to transport between neighborhoods.
Goreme (Pink Area)
Goreme is the most touristic and safe area, ideal for accommodation at local cave hotels. It is considered to be central Cappadocia with a great view of 'fairy chimneys'. Goreme is an Instagram worthy spot where you can view hot air balloons or go on a balloon ride yourself. It's absolutely necessary to bargain for balloons because prices are at 150 Euros for 1 hour. Balloon ride starts at 05:30 AM and you'll get a certificate and a non-alcoholic champagne upon landing.
Urgup (Orange Area)
Urgup is a safe residential area in Cappadocia, so you'll see many locals around here. Ideal for a day to get lost among stone houses and walk the area. It is the most vibrant area when it comes to nightlife. Streets are filled with local restaurants, wine houses, bars and cafés. Would not recommend a hotel here, it's better to visit for a day.
Uchisar (Purple Area)
Known as the peak of Cappadocia because it is the highest point there. Great for viewing the scenery and sunsets. If you're looking for a more luxurious trip, staying at Uchisar's rock-caved hotels spread around the Uchisar Castle may be a great fit for you. The Castle is formed by two fairy chimneys with a spectacular view. You can visit it during the day.
Avanos (Yellow Area)
Although not a big touristic area, you can witness the traditional life of locals in Avanos. You can visit the underground cities here and attend to pottery workshops. Avanos is famous for its unique wines. So, if you're interested in winemaking Avanos is the area for you, where you can visit winehouses and talk to local winemakers.