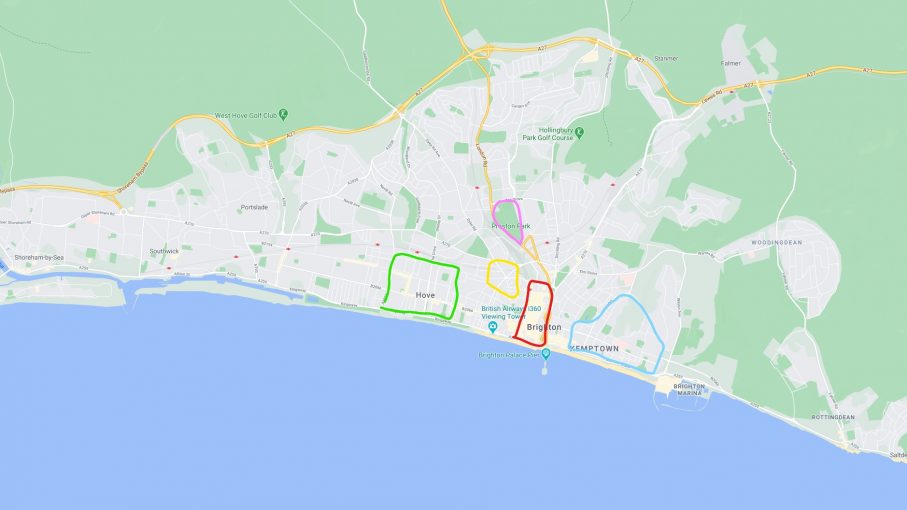 Blue Area:
This neighborhood is Kemptown, Brighton's biggest seaside tourist hotspot. There are many pubs and bars along the coast, with a large nightlife and friendly locals. This area can get quite loud at night, but always remains relatively safe. Kemptown has an understated, hip cultural influence, with alternate architecture and quirky eateries. Kemptown has lots of accommodation for relatively affordable prices, considering the closeness to what else Brighton has to offer.
Red Area:
North Laine is another sea-side neighborhood with a big emphasis on quaint, traditional shopping and residential districts. The architecture is very old and appealing, with enclosed streets filled with boutique stores. North Laine has a large tourist population, and more of it is becoming focused on nightlife, with bars and pubs opening along the coast and a few streets in.
Green Area:
This is Hove, which is known for its food and cultural diversity. There are many restaurants in the area, with cuisine from around the world. Hove is also costal; however, there are less bars and pubs alongside the coast, with more of an emphasis on the eateries. There is still a large tourist population, but Hove remains relatively quite at nighttime, making it a good place for accommodation—which is reasonably priced.
Pink Area:
Preston Park contains Brighton's biggest outdoor attraction—Preston Park, rather obviously. The park is surrounded by beautiful, old residential buildings, and is considered an expensive area. As this area is mostly residential, there is not much outside of the park. It is perfect for a family outing, as locals are friendly and the area is well-lit, making it quite a safe area to visit.
Yellow Area:
Much like Hove, Seven Dials is largely focused on restaurants, as opposed to pub and bar culture. The eateries in the area are also largely international, with many countries' food represented. There is a decent tourist population, as it is close by to the tourist hotspots along the coast, although it is a quieter area, which makes it an ideal area for staying. Seven Dials is a poorer area, making it generally more unsafe than other areas of Brighton.