This is a mapee of the main parts of Chiang Mai, Thailand.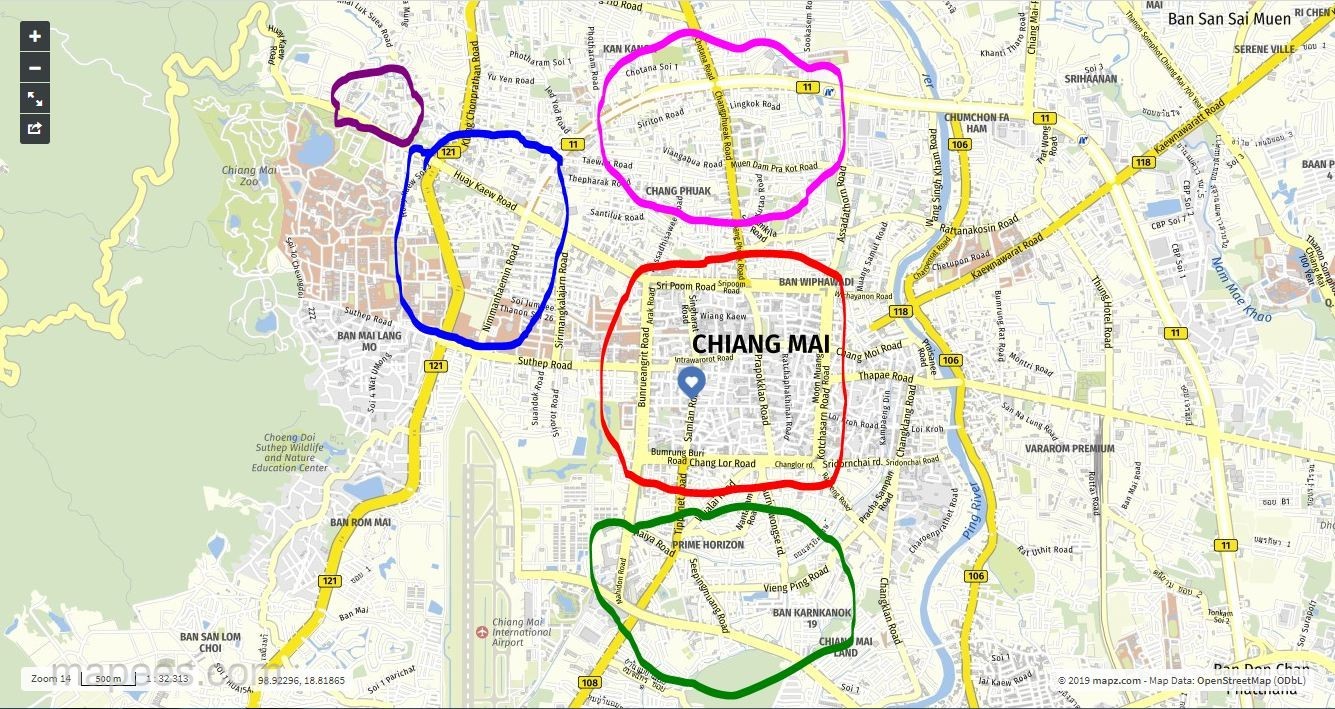 Red Area: This is the area primarily referred to as the Old City. It has ancient walls around it and a moat around the walls. This area is pretty old and not where you would be for the fanciest and most modern infrastructure, but a tourist hotspot nonetheless. Most of the action is around the east gate of the wall, and there are often night markets and street performers in the area to keep you entertained. There is a lot of inexpensive options for restaurants and street food.
A lot of the typical nightlife activities are concentrated in and right outside this area. The popular nightlife circuit for most younger travelers begins at Zoe in Yellow, a bar complex within the walls, with several indoor-outdoor bars. This place is usually packed with mostly a backpacker crowd, but closes at midnight. After which the crowd herds itself toward a club called Spicy. Those with enough energy to party till 4 am proceed to a smaller club called Las Vegas bar.
Accommodation in this area isn't typically high end, and caters more to the mid-market and backpacker crowd. It doesn't mean you can't find luxury options here.
Transport options are available at any time of day. Grab, taxis and tuk tuks.
Blue Area: This is the "upmarket" part of Chiang Mai. It includes the Nimman area, and Maya Mall area. This is where most expats stay longer term, and it is a cleaner and more modern part of Chiang Mai. It is filled with fancy restaurants, hotels, roof top bars, nice apartments and shopping options. There are also a lot of startups setting up shop here. Naturally, you would expect to pay more for everything, if you choose to stay in this area. Maya Mall on Huay Kaew road is one of the biggest malls in Chiang Mai, and has a lot to offer, as well as a cinema.
One thing many people aren't fond of in the area is aircraft noise. The area is directly under the nearby airport's flight path, so low flying planes generate quite some noise all day.
Transport options are available all day in the area.
Purple Area: This is the area right outside Chiang Mai University. This area has a younger population, as a lot of people in the area attend the university. Accommodation is notably less expensive here than on Nimman road right down the street from it. There is a pretty active night market in the area selling all kinds of wares. It is an area to consider, if you want to be close to Nimman, without paying Nimman prices. It is about a 15-20 minute walk on Huay Kaew road from the university to Nimman road. It's also a short walk in the opposite direction to the Chiang Mai zoo.
Transport options are available all day in the area.
Pink Area: This area is your average local area. It is a decent area, if you want affordable accommodation for a longer stay in the city. There are very few tourists or foreigners to be seen in this area. However, you will find the occassional expat who lives in the area. Normal amenities and stores like 7-11 are usually available within walking distance. A motorbike might come in handy, if you plan to stay for long. However, Grab and other transport options are available.
Green Area: This is also a local area with very few tourists, but some expats live in the area. This area is more sparsely laid out, and you can easily find yourself with a ten minute walk on your hands to get to a convenience store. However, you can get nice apartment accommodation in the area at decent prices. One of the area's biggest plus is it is right around the corner from the airport. Grab is available in the area too, but your wait times will be longer than the more central areas. Taxis and tuk tuks might also be harder to get, except you are close to a main road.
No significant safety issues exist in any of the Chiang Mai areas mentioned. However, exercise normal caution.