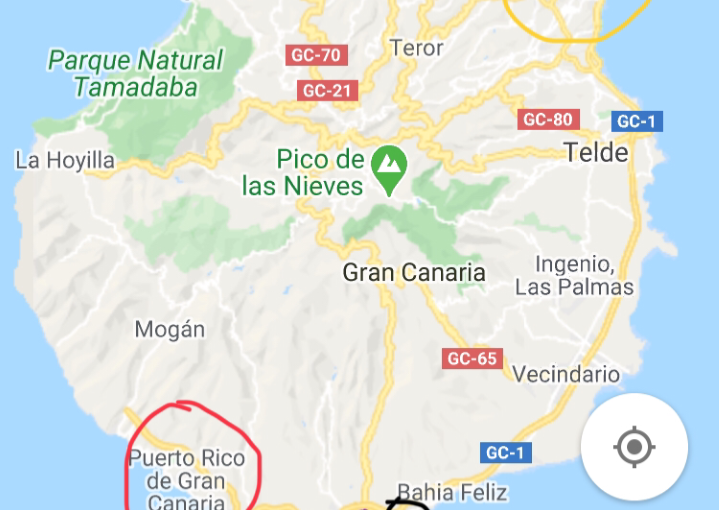 Gran Canaria- Gran Canaria is an island to go to if you want sunny weather even in winter. It gives you the best of both worlds with desert life and beach life. There are several beaches and sand dunes to explore. Here are some areas to check out.
Las Palmas-Yellow
This is the capital of Gran Canaria and is very busy. It has a clear water beach and is fairly safe to visit. The buildings are also painted in a range of colours so it is great for scenic photos. There are also many vibrant cafes to try along with browsing the market stalls. So, if you want a taste of the culture then this is the first place to go!
Playa del Ingles–Black
This is located on the winder side of the island. The beaches in Playa del Ingles are not a place to tan but can be a place to surf since the waves can be quiet large (especially in winter). The restaurants have quiet basic menus and most advertise grilled meats and pizzas.
Maspalomas–Purple
Maspalomas is also located on the windier side of the island. This is the part of the island that has sand dunes so you can rent quad bikes and race around with family or friends. In addition, Maspalomas is a popular gay destination with many gay bars and drag shows. So, if this is of interest then there are various forms of entertainment available. The bars are also extremely cheap and offer Shisha smoking on the outdoor tables. In addition, there is a water park just outside Maspalomas that has a range of water slides and great for a family day out. It is also rarely busy. Tickets are also cheaper online.
Peutro Rico-Red
If you plan on going in the ocean, go to the calmer side of the island such as an area like Peutro Rico. Some popular excursions are jet skiing, banana boating, parasailing, and snorkelling. This is normally situated in Puerto Rico. The activities often come in bundle deals so taking part in more excursions mean the overall price is cheaper. However, Peutro Rico is the most popular area in Gran Canaria and has clear water in summer. In addition, the hotels are on the cliff side so you can have a lovely view of the ocean. Therefore, if you want to stay near all the excursions I would suggest staying here. However, the buses are cheap and safe if you do choose to stay in a different part of the island.
Overall Gran Canaria offers a range of activities. The desert life and beach life mean you cannot be bored with the range of activities on offer.