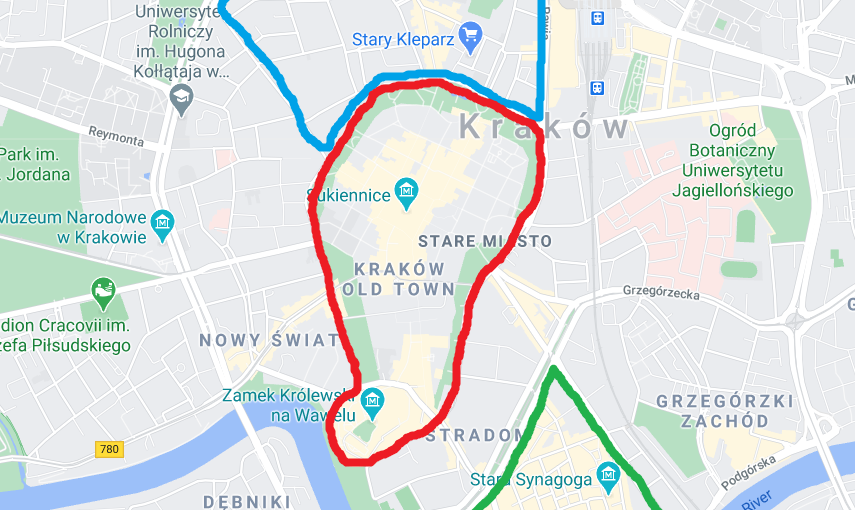 Even though it is not the capital, Krakow is still one of the most beautiful cities in Poland. This mapee will help you choose where to stay and what to do when in Krakow.
Red Area
The red area on this mapee represent the Old Town of Krakow, also called Stare Miasto. This area is located within the old city walls and it is the most important place when it comes to visiting the main attractions and landmarks. In the center of the city you will find the Market Square which is the biggest one of its kind in Europe. Just being in the square and looking around made me feel like I am in a completely different world. As I walked along the narrow cobble paths I felt as if I were taken back in time when Krakow was just a city between those walls. Nowadays, these paths are packed with a countless numbers of bars, pubs and restaurants. At the edge, just on the river bank, is the amazing Wawel Castle which stands high overlooking the whole city and the river.
This area is perfect to stay in if you are a first-time traveler in Krakow. Accommodation here is close to all main attractions but it comes at affordable prices.
Green Area
The green area are the Jewish Quarters, or as they call it in Poland – Kazimierz. This area used to be a separate city in the past where the Jews used to reside. During WWII Jews were forced out of this area therefore leaving Kazimierz as the city's poorest and most damaged areas. They hadn't renovated the area until 'Schindler's List' was filmed here, thus as you take a stroll around it you'll see a lot of raw ancient architecture.
Nowadays, this area has become largely residential and the best one when it comes to nightlife. In the evening it becomes alive and busy with packed restaurants where you can enjoy great meals and full pubs and bars where you can enjoy a drink in great atmosphere. The food is traditional and tasty, and the atmosphere in the pubs is just one-of-a-kind for Polish people.
Accommodation also comes at low prices so it is one of the best areas to stay in if you're visiting Krakow. In addition, public transport is easy accessible if you need to get anywhere in the city.
Blue area
The blue area is also known as Kleparz and it is one of the best areas for accommodation. It is a lot quieter than the Old Town but it is extremely close to the center of the city. Therefore it provides you with great location yet a more relaxed atmosphere.