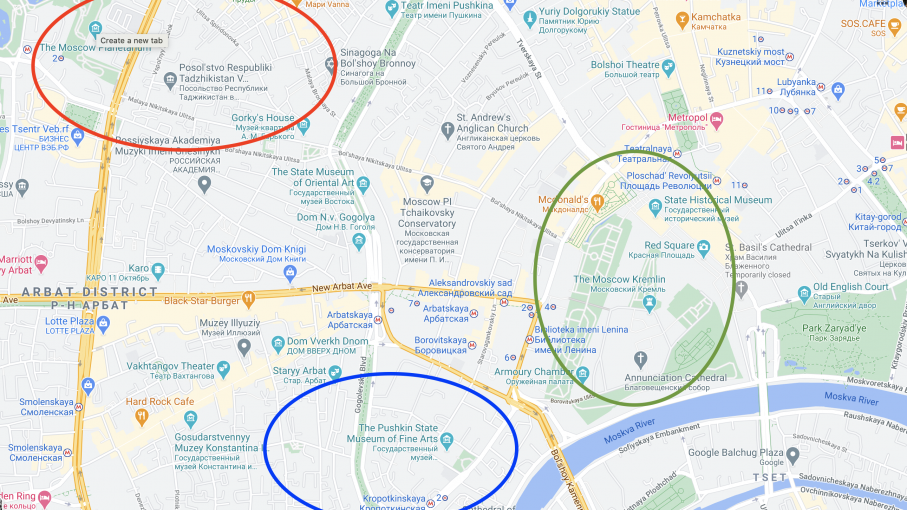 Blue Zone
The area does not have a wide variety of accommodation, but they are all on the bus and metro routes and can be used as a base for tourist trips to the sites of the city.
It is better to stay within the city ring road, as the traffic is insane to get in and out of the city.
Walking distance to the Vakhtangov Theatre and the Pushkin State museum of Fine Arts, this is an art lovers dream.
Red Zone
The city is filled with embassy's, museums, and centers like the planetarium. Although it is great to visit the various art museums in the area, educational opportunities are a bit tough for tourists who are not keen to take in the experience of not understanding Russian. If you are interested in a great experience and don't mind bumbling through the language barrier, the planetarium show is excellent. Just make sure you book online ahead of time to avoid disappointment. The metro has a lot of options and is easy to navigate.
Another option would be to take the trains on a round trip through the Moscow underground and get off at every stop to take in the station's art and sculptures. It is the best way to understand the culture of the area.
Green Zone
City Centre
This is the tourist center and an ideal spot to book your hotel for ease of access to the metro, Red Square, and the Bolshoi Theatre.
You can walk to most of the key tourist sites, restaurants, and galleries. The strip of restaurants on Red Square's outskirts are multiple, and you can enjoy a lovely steak dinner if you choose, or grab a take-out coffee to walk into the square with to keep you warm.
Just be aware that this is a high-risk zone for any political statement, so there is a high police presence, so don't jaywalk!
The highlight of the trip was, of course, the Kremlin tour and St. Basils Cathedral, which is just magnificent and worth braving the cold to get that iconic photo.
There is a level of respect that you feel you need to offer the city, with its conservative nature and following rules. The food, though, was absolutely exceptional, and the restaurants never disappointed with whatever you felt like eating.