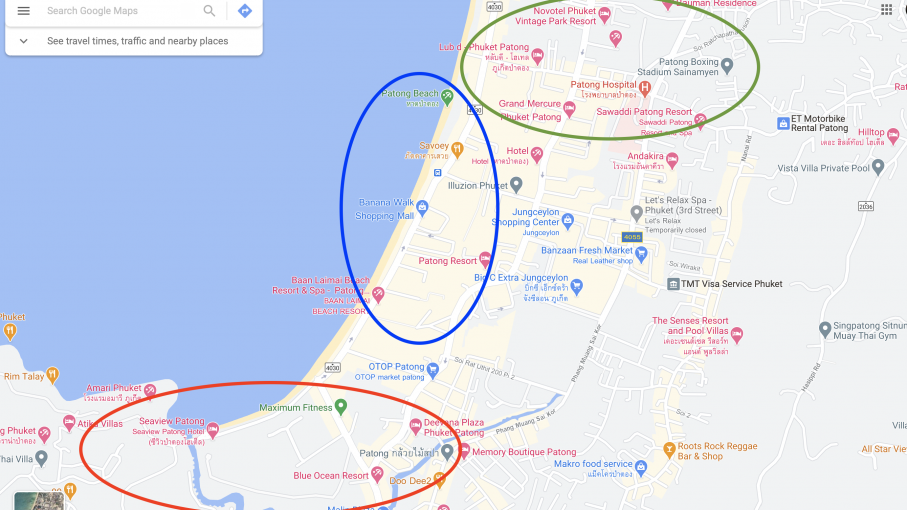 Blue Zone
Patong Beach
The strip of beautiful beach is a great place to suntan, jet ski or even parasail over the pristine waters.
A highly sought after tourist party region, but not suitable for everyone. Patong beach is a bustling city but expect to be propositioned for just about anything from the many massage parlors and nightclubs.
In season, it is chaotic with all-night parties and lots of activities on the beautiful beach, so you may want to rather stay a bit further off the beach if you want some peace at all in the evenings. The hotels one or two roads in from the main beach are not ideal for holidaymakers, honeymooners or families.
There are magnificent hotels and restaurants to enjoy along the strip, which offer a welcome reprieve from the scorching sun and humidity for some lunch or a drink.
Red Zone
Sea View
The region is a little off the beach strip of Bangla Road, which is busy with hawkers all vying for your money, watch out for prices of cheap knockoffs, and always negotiate before you buy anything. These hotels and resorts offer you magnificent views of the bay and the beach.
It is walking distance to the beach, so you don't need to have specific transport. You can also hop onto a bus which will take you to the main beach area if you like.
The hotels and resorts are better for family orientated or couples holidays where you can still be part of the vibe, but you can stay in the resort, hang out at the pool and have limited visits to the strip or take a taxi to tour the rest of the island from.
Green Zone
North Patong Beach
The resorts on this side of the mountain are magnificent and have phenomenal views of the bay and beach.
They are a little further off the roads, but this offers a bit of peace and quiet from the hawkers hassling you from the beach.
The resorts offer a full range of features from pools and restaurants which can be a better experience.
It does help to have some form of transport as they are a little far off the main roads, but you can walk down to the main beach if you are fit enough. Taxi's can be arranged by the resort.