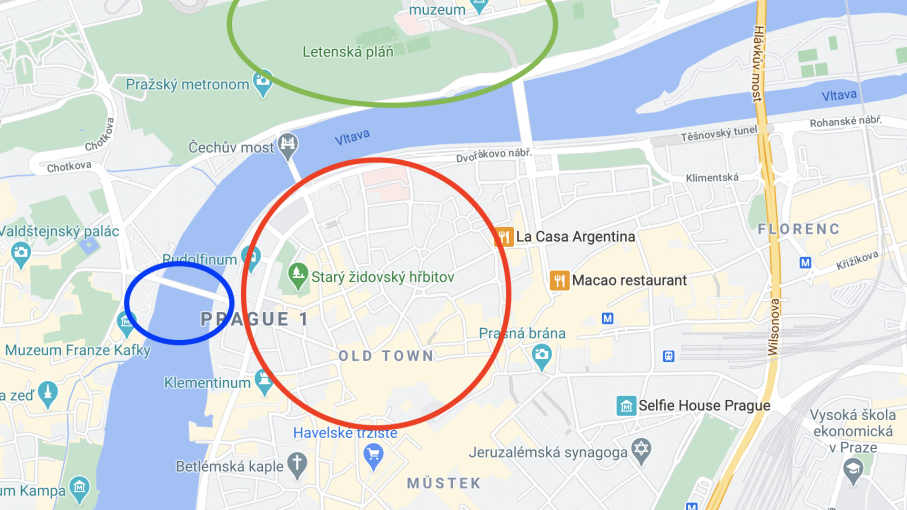 Red Zone
Old Town
Also known as Stare Mesto is Prague's city center and the best place to stay if you want to take in the city's history and famous tourist spots. Home to the Astronomical Clock, I would recommend grabbing an ice cream or snacks and settle down to watch the show. It is worth it. The cobbled stones don't make this city wheelchair or high heel friendly, though, so plan your footwear carefully. If you take the time to walk the city, you will come across exciting art and exhibitions like the statue of Franz Kafka, a moving sculpture that you can watch for ages as it changes shape.
Blue Zone
Charles Bridge
A must for visitors to the city, this walking bridge, also known as "Lovers Bridge," is located just south of the Old City and a short walk from the city center's other tourist spots.
It crosses the famous Vltava river, which cuts Prague city in half. Filled with engraved lovers locks on the bridge, it is fantastic to spend the afternoon reading the love messages of travelers from all over the world. The oldest bridge in the city, finished at the start of the 15th century, offers excellent city views. The bridge is populated with magnificent sandstone statues all along the bridge, and art enthusiasts dream.
Green Zone
Letna Park – Prague 7
What feels like a different city overlooks the Vltava river and Prague's city center, home to the impressive and massive 75- foot tall, fully functioning Metronome. It is a cost-effective area of the city to book your accommodation. You can book ghost tours or visit the Prague Castle and Lobkowicz Palace if that is your thing. We booked a Segway tour, which was a brilliant way to see the area, including Letna Park, the brewery in a monastery, and zoom around the streets overlooking the Prague city center. Just be cautious of tasting too many beers, as the trip back is down a very steep hill just as you leave the brewery.
The views, however, were spectacular.