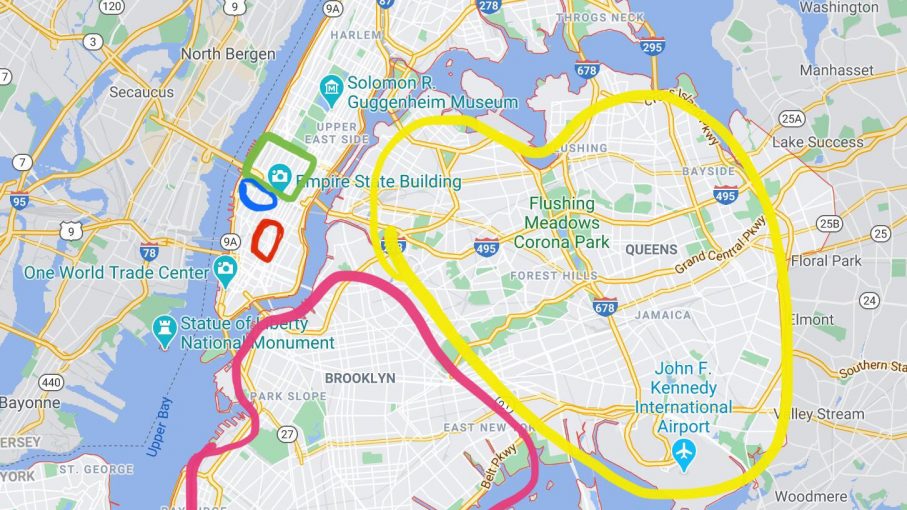 New York is the city that never sleeps. Wherever you plan on staying, I'm sure you'll feel like you're in a movie. Many neighborhoods are pretty walkable, but it'll be easier to take the subway to travel around the city. Get yourself a MetroCard and avoid taxis at any cost because there is a constant traffic rush.
Midtown (Green Area)
Ideal for first timers in NY because it's super central, has many hotels with varying prices, and has all the key attractions and landmarks at a walking distance. It's pretty safe, mainly for tourists but can be very crowded and noisy.
SoHo (Red Area)
The place to stay for people looking for a safe, pleasant and cool neighborhood. Here you can get to know the multicultural structure of the city. SoHo used to be the home for many artists with its cheap living options, but now it's an expensive neighborhood with fashion boutiques, vintage shops cafés and bars. Great choice if you're not on a budget and want to live like a New Yorker. Only downside is it's not well-connected and you'd have to take public transport to visit other neighborhoods.
Chelsea (Blue Area)
With it bohemian atmosphere, Chelsea hosts lively nightlife and shopping opportunities and has an attractive art scene with various galleries. Used to be a very cheap neighborhood, but now becoming hip, trendy and expensive. If you're an art lover and a foodie and are not on a budget, you should stay in Chelsea or at least spend a day visiting the Chelsea Market and art galleries. Chelsea will give you an authentic NY vibe.
Brooklyn (Pink Area)
The ghetto of the past, the hipster neighborhood of today with a view of Manhattan. If you are more of a hipster, staying in Williamsburg or Greenpoint will be a good idea. Here you'll discover that Prospect Park is actually better than Central Park. Don't stay in Bedford-Stuyvesant or Brownsville and it'll probably be smart to avoid these areas as they're not that safe.
Queens (Yellow Area)
Relatively safe area, would not recommend for accommodation if it's your first time in NY. Away from main attractions but has its own attractions like MoMA PS1. You can plan a day visit to Queens from Brooklyn.