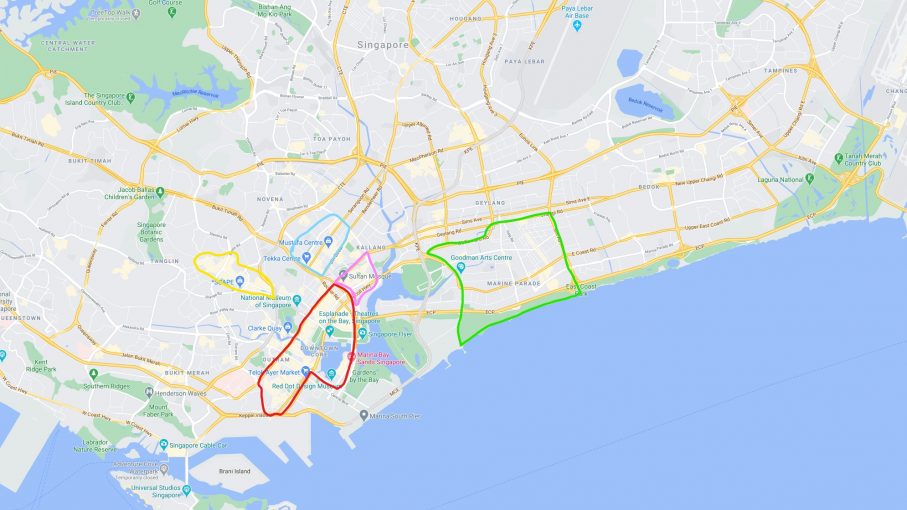 Blue Area:
This neighborhood is Little India—Singapore's enclave of Indian culture. There are many restaurants in the area, but majority are focused on Indian cuisine. The Mustafa Centre is Little India's main shopping center and has a large variety of shops.
Accommodation is few and far between and reasonably expensive for what you get, although it is very central and close to other activities. Little India is considered quite safe at night time and has a equal portion of tourists and locals.
Red Area:
Downtown Centre is Singapore's main commercial district. It has the tallest and most modern buildings, with wonderful views of the city. At nighttime, Downtown Centre's party scene is huge. There are a good number of nightclubs and bars, as well as nighttime restaurants. This area is perfectly family-friendly, even during the night scene. Accommodation is very expensive in this area, and is considered one of Singapore's safest areas.
Yellow Area:
This neighborhood is called Orchard. Orchard is Singapore's biggest shopping district, with huge malls and high street shops crowding the neighborhood. Orchard is very developed and clean, with a reputation for being extremely safe. There are a huge number of eateries and restaurants around Orchard, many of which are in the shopping malls. Orchard has a huge number of tourists and is one of the most busy regions of the city.
Green Area:
This is Marine Parade. Marine Parade is known as one of Singapore's largest residential areas, with a huge number of locals living here. The beach is rather modest and is mostly used by tourists. There isn't much sightseeing here, but it can be a good look into how the locals live.
Pink Area:
Kamplong Glam is the Muslim neighborhood of Singapore. The busy streets are filled with interesting, little shops and a huge variety of restaurants, similarly to Little India. A huge number of Muslim locals live here, but it is a spot visited by many tourists.
This is a very beautiful area of the city, with traditional, old buildings reflecting the Arabic culture. Kamplong Glam is a very safe area of the city, but accommodation isn't cheap, and rather hard to find.