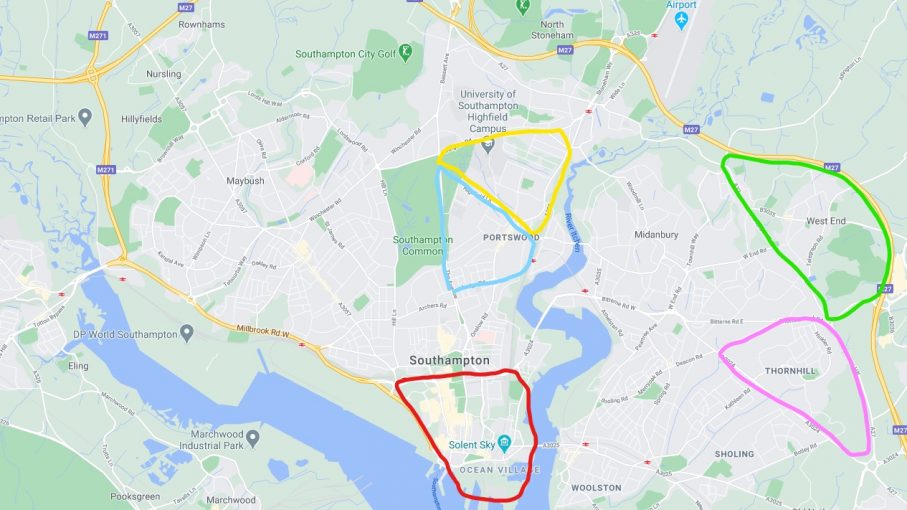 Blue Area:
This neighborhood is called Portswood. The nightlife isn't spectacular, due to Portswood being one of the more relaxed parts of the city. Bars and pubs are plentiful, and the locals are friendly, making it a safe area of Southampton. The architecture is fairly old and traditional and it is in close proximity to many of the city's activities.
Red Area:
This is Ocean Village—Southampton's most popular neighborhood. The marina has beautiful sights and many bars and pubs. The nightlife is quite active, with a large student population driving the party scene. Night time is fairly loud, so it is unadvisable to book accommodation near pubs or clubs. Ocean Village also has a thriving restaurant scene, with many trendy cafes opening up along the marina and tourist streets. This is a fairly safe part of Southampton, and despite the party scene, it is family-friendly.
Green Area:
West End is Southampton's prettiest neighborhood, with green, countryside views with the conveniences of a city. West End is a residential neighborhood which looks onto the back of Southampton's gorgeous scenic hills and forests. It has facilities mainly intended for locals, such as the sports clubs, but also contains many outdoor activities. The neighborhood is well-lit and quite safe, although it can be considered dirty in some areas.
Pink Area:
This neighborhood is Thornhill and is one of the less affluent areas of Southampton. Thornhill is considered one of the more dangerous areas of Southampton and many areas are quite dirty. The lack of security measures like adequate lighting also makes it relatively dangerous at nighttime. For tourists—there isn't much to see. Thornhill is mainly a residential area, with few commercial facilities, such as convenience stores.
Yellow Area:
Highfield is home to the University of Southampton and is one of the most affluent areas of Southampton. Highfield has the views of the water without the nightlife and loudness from partygoers. Many older locals live here, rather than students, making it a great place for a family to visit. Highfield is extremely safe, with very well-lit areas