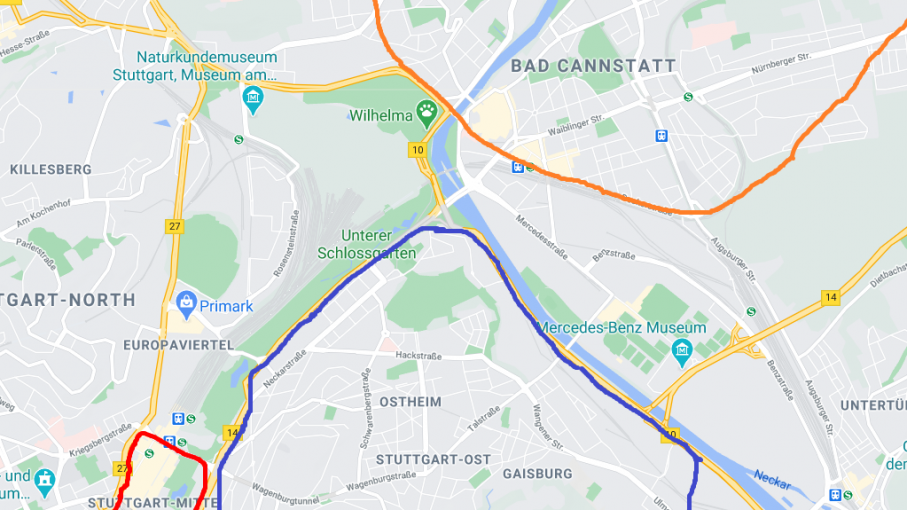 This mapee talks Stuttgart, one of the safest yet not very popular city in Germany. Check out you can see and do here, as well as which are the best areas to stay in when in Stuttgart.
Red area
The red area represents Stuttgart's city center and is also called Stuttgart-Mitte. This area is the most beloved among tourists since it is the home to many main attractions and landmarks. In addition, lots of office building are located here so it is very busy and crowded. I loved walking around and looking at the architecture and attractions, but at times the atmosphere was a bit chaotic with everyone rushing to get somewhere and disregarding others.
However, if you are visiting Stuttgart for the first time this is a great area to stay in. Prices are bit higher but are worth it because it is the heart of the city. Everything you need to see and do in this area is within a walking distance.
Blue area
This area is just east of the city center and it is called Stuttgart-Ost. It is not as developed as the city center since it used to be a workers' settlement built in Renaissance style. Nowadays, it is mostly a residential area and the style is still being kept for authenticity. There is not much to do around in this area, but the thing I loved most was walking in the amazing big park which stretches like a horseshoe around the city center.
There is one thing that is the best in this area and that is the accommodation. It is very affordable, you won't be crammed in a dormitory room and yet the city center is still close. You can walk to places from here or simply use the great public transport which can take you anywhere close by.
Orange area
The orange area is also known as Bad Cannstatt. This area is a tourist magnet for several reasons. First of all, here you can find the MineralBad springs which are the second biggest ones in Europe. Spending a day relaxing and pampering yourself in these spas is a day well spent. In addition, since Stuttgart is home to Mercedes-Benz and Porsche you can visit the two amazing car museums. Finally, two of the biggest beer festivals are help here, so if you can visit the city just in time for them and have a great day trying all kinds of craft beer.
Because of all of these reasons this area is a great place to stay in and you can find affordable accommodation here. What is more, because of the great public system that Stuttgart has you can reach the center from here in only minutes.